As travel restrictions slowly lift, I've spent a ridiculous amount of time researching trips, especially to Italy. Probably because it feels like the opposite of what quarantine has been like. Take me to the Amalfi Coast, Venice, Capri, Rome, Tuscany… you get the point! Speaking of Tuscany, this dream-worthy house in the middle of the Chianti region landed on my radar and it will forever live in my brain now. Casa Morelli lives on a hill with jaw-dropping views, a charming stone exterior and a modern interior outfitted with custom furnishings. An expansive terrace, complete with a pool, is optimized for relaxing, wine drinking, dining and gazing at the vineyards, olive groves and forests that surround the property. Instead of just dreaming about it, Casa Morelli is available to rent via Welcome Beyond here, so book a flight to Florence or Pisa, rent a car and call this place home (temporarily).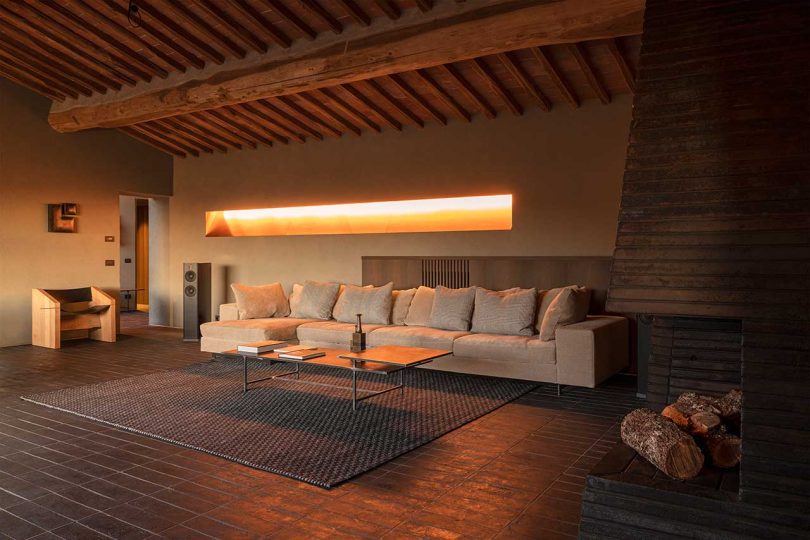 Unlike most Tuscan farmhouses, Casa Morelli features large windows and sliding glass doors that open to unite the interior with the outdoors. Some of the structure dates back to the 16th century, while the open living plan and study were added in recent times.
The floors, bathrooms and kitchen are made from a darkened grotto brick that's a perfect balance of rustic and modern. An angled fireplace complements the floor as it rises to the ceiling that's clad in old chestnut beams that were sandblasted. Despite the darker interior color palette, the natural light that pours in keeps it lit.
The built-in kitchen counter with the stovetop is constructed from the same bricks used on the floors.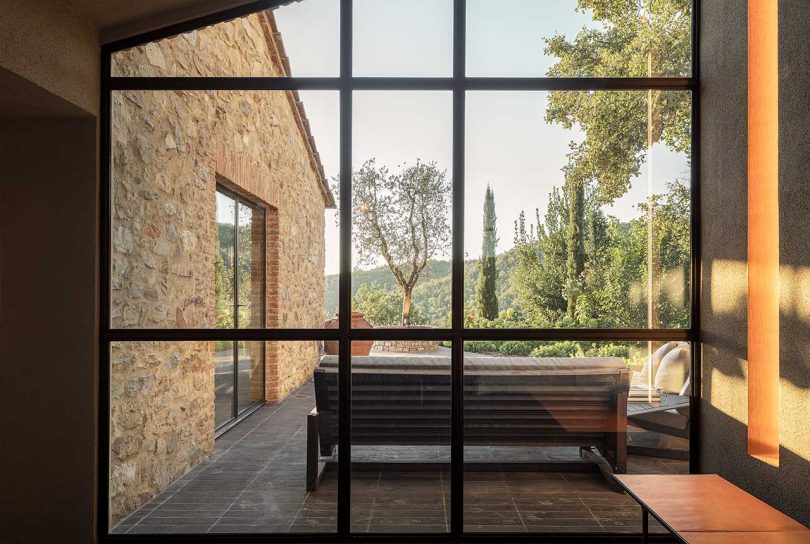 The newly added study doubles as an extra bedroom with its own bathroom attached.
The circular bathtub was custom made and milled from massive blocks of Tuscan travertine.
As if the house didn't offer enough, take a look at the sunset views!
For more information on Casa Morelli, visit welcomebeyond.com.
Photos by Oliver Jaist.

Source: design-milk