I'm not sure how we're already here. It's July 2nd and I just don't know how that's even possible! We're going to blink and it will be winter in no time. But let's pump the brakes and make the most of summer while it's here! Now is a great time to invite friends over for a backyard summer BBQ, especially after 2020. It may be too late to throw something together for the July 4th weekend, but there are plenty of weekends before fall so let's get planning! To help kick things off, we've gathered everything one needs to throw the perfect summer BBQ!
Temps are oh so hot these days and if you don't have your own pool, an inflatable one can keep you cooled down. This Lines pool from MYLLE spans 65″ in diameter with 15″ sides making it perfect for two adults or several kids.
Comfortable seating for those looking to lounge or sunbathe is essential. If you've ever relaxed in a bean bag chair you know just how chill they are, and this Stripes Camp Out Bean Bag from Pony Rider is made from natural recycled canvas is durable and easy to move.
This Mon Oncle BBQ from RS Barcelona feels like a classic BBQ design when open and an elegant briefcase with leather straps when closed, making it portable for use during any occasion. While aesthetically, the barbecue is quite pleasing (it comes in 4 colors – Blue, Green, Grey and Cream), it's also designed for easy, powerful grilling for many years to come.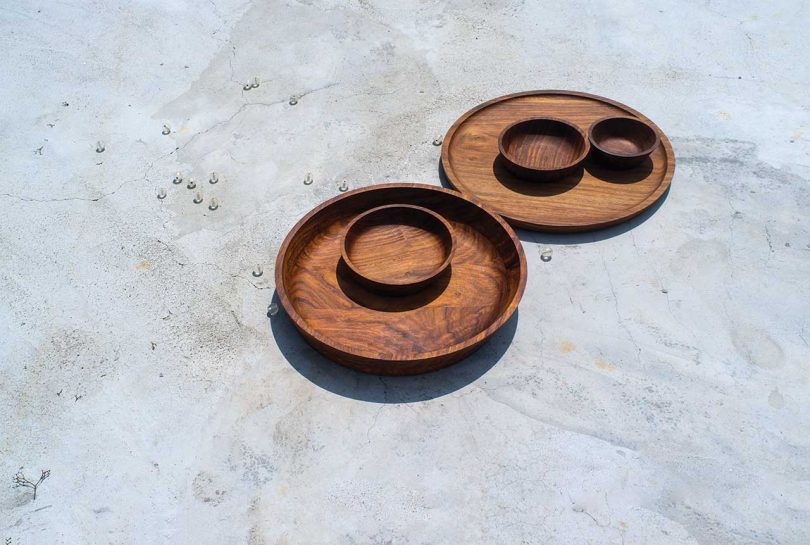 One of the most important ingredients of a good summer BBQ is food. In addition to the grilled food, easy snacks are critical, like all of the chips, dips and salsas. This Seva Serving Set from TIIPOI includes 5 pieces – large bowl, circular tray and three small bowls – that are perfect to hold all the snacks or burger toppings.
Just as important as the eats are the beverages. Whether you're serving wine and beer, or La Croix and White Claws, you need a place to keep them cold. The Frio LED Ice Bucket with Speaker from Koble does more than keep your bevs chilled – it's outfitted with speakers you can sync to your mobile phone or tablet via Bluetooth so you can listen to all of your favorite Spotify playlists. You can also adjust the mood by changing the colors on the light settings.
Leave it to Poketo to dress up your table with their colorful bamboo plates and cups. They're more fun and festive, and much better than Styrofoam or paper plates for the environment. We love the Waves Bamboo Dinner Plate Set paired with the Blots Bamboo Cup Set, both of which include four each.
Add a fun game to the mix, like the rainbow-colored Giant Tumbling Tower from SUNNYLIFE, which will have everyone holding their breath and praying they're not the one to make it all come tumbling down.
Now for a PSA (Public Service Announcement): DO NOT FORGET TO WEAR SUNSCREEN! Burns happen. We all know how painful it is and damaging to skin in the long run. Prevent the pain and grab the fragrance-free SPF 50 Sunscreen Lotion from SALT & STONE and make everyone slather up every two hours!
>>> For more summer entertaining necessities, head to the Design Milk Shop here! <<<

Source: design-milk