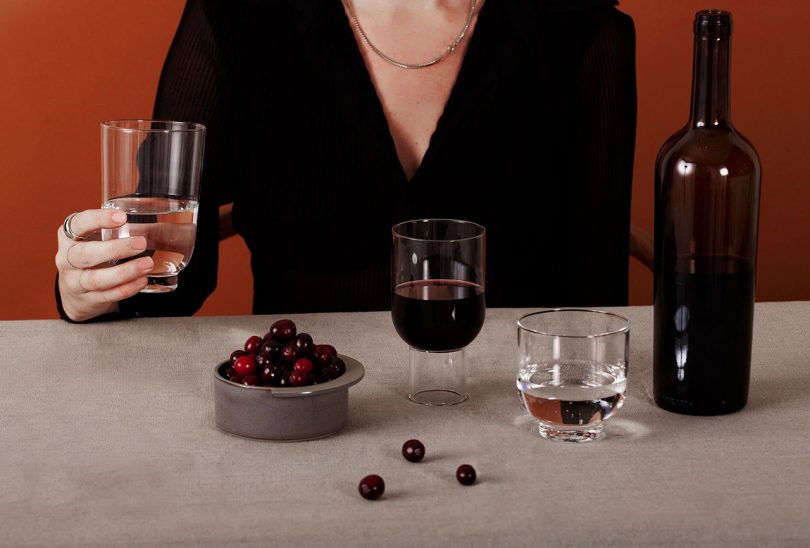 Happy National Wine Day! Of all the unofficial holidays, this one undoubtedly ranks at the top of the list and the fact that it falls on a Wednesday is pure kismet because frankly, at this point in the week we could all use a glass of vino. To celebrate the occasion, I took the liberty of handpicking everything you could ever possibly need to host your own Wine Wednesday at home – straight from the Design Milk Shop.
Every wine lover needs this set in their kitchen. Complete with everything you need to uncork and store a bottle of wine – from a corkscrew and foil cutter to a wine pump and vacuum stoppers – this set will add a layer of ease and convenience to an already stellar part of the day. It even comes in a high-quality box that's perfect for gifting! Did I mention that Father's Day is around the corner?
$85 (35% off!)
Shop Now >>
What's a Wine Wednesday without a charcuterie board? This trio of curved cutting and serving boards by Tortuga can be arranged together or individually – making it a favorite for wine nights spent solo and among friends. The smooth curved edges are a modern elevation from the conventional rectangular cutting board shape, and the walnut and beech wood finishes bring natural texture to your kitchen.
$153
Shop Now >>
The large size of these Eva Solo wine glasses is perfect for sommeliers in training who want to let their wine "breathe" and experience all of the notes and nuanced flavors they have to offer – the perfect accessory for putting those fanciful wine terms to use while wining and dining with friends and family. Aside from the sleek and modern aesthetic, the glasses' angled rim keeps the aforementioned aromas and flavors close for maximum enjoyment.
$49
Shop Now >>
Another versatile favorite that's perfect if you're short on cabinet space, these Water + Wine Glasses feature a unique double-sided design that accommodates water and wine volumes with a simple flip of the glass. The innovative shape of these glasses gives whatever you're drinking the appearance of floating above your tabletop for a glassware experience that's as pleasing to the eye as it is to use – perfect for casual wine Wednesdays at home and formal occasions alike.
$220
Shop Now >>
This Acacia Wood serving platter gives your homemade charcuterie boards a rustic look. Handmade by expert artisans, the platter's organic shape brings a natural look to your tabletop and doubles as a decorative accent. Use it to serve small bites like meats, cheeses, and other classic wine accompaniments to achieve a gourmet food presentation at home, as a centerpiece on your dining table, or on your coffee table as a decorative tray.
$72
Shop Now >>
This modern wine rack by BENDO turns your Wine Wednesday bottles into a stylish piece of home decor. Designed to hold up to 3 claret-shaped wine bottles, the VINO LUXE holder has an architectural bent wire design that saves space on your countertop and gives your wine collection a chic, geometric flair. We love the copper color way for an extra-special pop of metallics.
$52
Shop Now >>
This Wine Glass encapsulates everything I love most about Departo – a simple, yet elegant shape, versatile uses (the stem has a hidden shot glass!), and an accessible price point. Its timeless beauty transcends Wine Wednesdays as you'll want to use them for everything from water to iced coffees. The smoke-tinted colorway is a personal favorite for an ultra-modern aesthetic in my cupboard!
$18 each
Shop Now >>
Once you've poured yourself a glass of wine from this Rare Crystal Decanter, you won't want to use anything else. Made using mouth-blown crystal, this diamond shaped carafe can stand upright or on its side, for a unique tabletop display. The multifaceted design beautifully captures the light too, creating an artful arrangement of reflections and colors across your table while taking your wine night to a whole new level of fancy. I recommend pairing it with the matching glasses for the full effect!
$59
Shop Now >>
An updated reimagining of the ornate, antique glassware aesthetic, the Margot Red Wine Goblets feature a modern elegance that can be dressed up or down for any occasion. The chunky, multifaceted glass stems maximize the handmade glasses' opulence from end to end, guaranteeing their position as the most coveted glassware on your shelf. The cherry on top? They're dishwasher safe.
$240
Shop Now >>
Whether you're taking Wine Wednesday to a friend's place or outdoors on a picnic, this carrying tote by Graf Lantz will help you do it. Designed to fit 2 standard sized wine bottles and made with the brand's signature merino wool felt material, this stylish modern wine carrier keeps your precious cargo snug as a bug. It also makes a great gift for a party host!
$69
Shop Now >>
Shopping any of these Wine Wednesday favorites?
Share your haul and tag us @designmilk to be reposted on our Instagram!
Source: design-milk