As much as we all love our pets, I'm sure we can all agree that traveling with them isn't always all it's barked up to be. For most dogs and cats (and some humans, really), a change in environment can be disorienting, causing your pet to feel anxious and not like themselves. Which is why having the right tools and accessories on hand is of the utmost importance – we also just want our fur babies to have the cushiest accommodations available because they deserve the best, after all. If you're planning on traveling with your pet this summer, whether on a short, weekend getaway or a long-haul summer vacay, we've lined up everything you'll need to make it an easy, stress-free experience for you and your furry friend. For more of our go-to pet accessories, head to the Design Milk Shop.
A Functional Carrier
This neoprene dog carrier by Wild One will be your dog's home away from home while in transit. Made with breathable mesh walls that zip open for easy access to your pup, and a plush interior cushion that folds out to function as a dog bed, this stylish travel carrier keeps your pup close, in comfort. The carrier is also airline compliant, and features a smart, exterior sleeve that slides over your carry-on handle – perfect for speed-walking to your terminal in style.
$125
Shop Now >>
For short trips and adventures around town, you'll love this limited-edition style of Just Fred's crowd-favorite Weekend Tote. The lightweight puffer material gives it a cool, casual look that'll complement your personal style, and keep your small dog cozy at the same time. What's more, it features open sides with padded chin rests so your doggo can take in the sites without any strain. And in case he or she has an accident while en route, the tote's interior is also water repellant and includes a removable pillow that can be tossed in the washing machine for easy cleaning.
$245
Shop Now >>
Wild One's Everyday Carrier is a smart and stylish solution fit for short road trips, or daily commuters trekking to a pet-friendly workspace. The roomy tote comfortably fits your small dogs of up to 20 lbs. and is made of a recycled knit material made from 80 water bottles! The dual length carrying straps, and chic colors also make it a bag you'll feel good wearing.
$150
Shop Now >>
Starring the same modern puff material seen on their Weekend Tote, the Just Fred Destination Tote boasts a larger size (while still being TSA-compliant) that your dog will feel comfortable resting in during longer trips. Designed with a mesh enclosure complete with a zip up peek-a-boo window, the Destination Tote allows your dog to discreetly experience their surroundings – chances are your fellow travelers won't even notice you have a canine companion in tow. And did I mention the built-in waste bag dispenser? This is the kind of convenience we need for fuss-free pet travel.
$255
Shop Now >>
Treats, Toys + Poop Bags Within Reach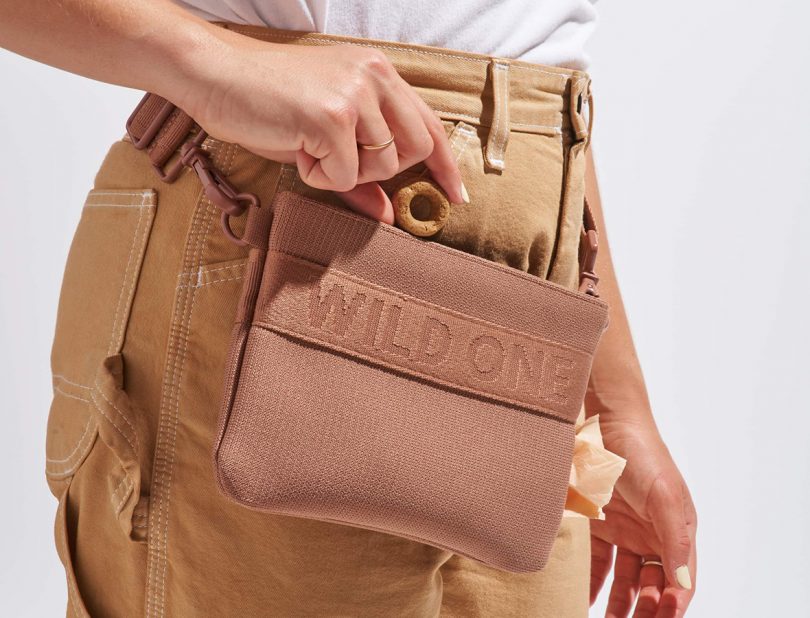 Finally, a treat pouch you'll actually want to wear. Featuring a recycled knit body made from 10 water bottles, Wild One's Treat Pouch is a staple for walks at home and abroad. The compact bag conveniently stores anything your dog may need while on a stroll like a poop bag dispenser and treats – and it even has space to spare for your personal items too! With a simple adjustment of the strap, the treat pouch can be worn as a cross-body or a fanny pack making it a wardrobe staple.
$44
Shop Now >>
Having a toy on hand is a great way to keep your dog entertained while in transit and to help make your destination feel more like home. This Wool Toy by Pillowvilla is made with the same, comfy wool material as their best-selling dog beds, making it as plush as it is playful. Plus, every toy helps save production waste from landfills!
$31
Shop Now >>
Treats are a no brainer for every dog parent's arsenal, but especially while traveling. Use them as rewards for good behavior, or to help your dog make positive associations if they're feeling anxious. These PB & J dog biscuits have simple, all natural ingredients and are free of the pesky fillers like wheat, corn, and soy. Dogs love them, and their design-loving humans love the chic, understated packaging too!
$18
Shop Now >>
Wild One's Twist Toss Toy accommodates all types of play. Use it for fetch once you've touched down at your destination or as a means of solo entertainment by filling the hollowed ends with treats for your dog to find! The natural rubber material gives it a natural bounce that's sure to keep your dog engaged for hours. Pro tip: spread some peanut butter inside the toy and freeze it for a long-lasting snack and enrichment exercise!
$9 – $10
Shop Now >>
Because you never know when your dog will get the sudden urge to poo, having a poop bag holder on you is always a good idea. The Elma Holder couldn't be more perfect because of its fashionable leather material, and the playful elephant-like shape that almost makes it look like a quirky little coin purse at first glance. The rubber stopper on the bottom allows for seamless bag dispensing, and the clip easily attaches to your dog leash or treat pouch.
$45
Shop Now >>
A Coat In Case of Rain
While inspired by greyhounds, Bastards' pet apparel is technically designed for all dogs, and it shows. They truly thought of everything when designing their Slim Fit Raincoat – like the fuss-free magnetic and velcro closures that let you drape the coat over your dog instead of struggling to pull it over their head. And the ultra-lightweight and waterproof material that not only keeps your pup dry but allows for free range of movement. It even comes in a handy, compact pouch for easy packing!
$307
Shop Now >>
A Leash You Can Depend On
A dog leash is a staple no matter where you are, but when you and your pup are traveling to a new place, having one you can trust and depend on is key. This Just Fred bundle includes their durable leash and lightweight harness in a variety of colors that your canine will love. Both are made to last and withstand the pushes and pulls of puppies and large dogs alike – while keeping them comfortable, safe, and secure on strolls.
$58
Shop Now >>
Wild One's dog leash features an adjustable design so you can change the length as needed, making it a staple that new pet parents will keep using and loving as their dog grows into adulthood. The design is carefully considered to accommodate daily walks, short term tie-ups, and tandem strolls. Sturdy hardware and durable straps ensure a safe hold on your dog, and the waterproof material wards off dirt, odors, and bacteria for easy cleaning. Our favorite part, though? The spectrum of stylish colors to choose from. We recommend color coordinating with one of their harnesses for the full effect!
$58
Shop Now >>
Shopping any of our travel-friendly pet accessories?
Share a photo of your haul and tag us @designmilk to be reposted on our Instagram!
Source: design-milk