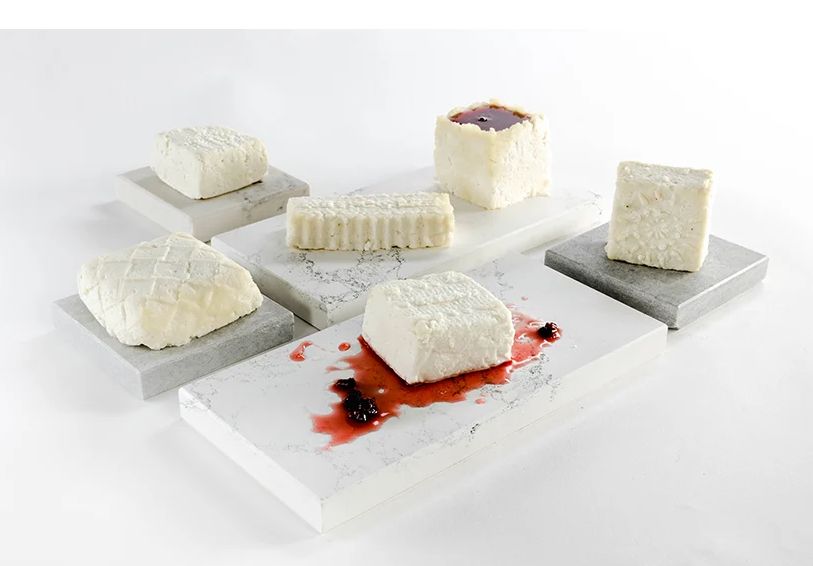 Would you purchase a sculpted block of goat cheese? I would! Daniel Elkayam teamed up with a shepherd and cheesemaker in Jerusalem to create a special collection of goat cheese. The collaboration, called Tatriz El-Habib, was created as part of the matchmaker project, where designers are paired with craftspeople. Designboom has more details:
The focus of this year's matchmaker project is food, and the brief for the designers was to tell the story of food makers through design. after being matched with shepherd and cheesemaker efrat giat,elkayam spent time in the yemenite valley in ein karem, where the giat family's goat farm is located. during this time, they took the goats out to pasture, milked them, made cheese, and, most importantly, absorbed the shared experience.
From this shared experience, the designer learned about the giat family, whose origins are in yemen. there, the family business was based on small handmade factory for jewish traditional embroidery. after immigrating to israel, they settled in ein karem and raised goats for a living. today, efrat raises a herd of 11 goats, produces cheese, and makes jam from the surrounding mountain fruits. in addition, she conducts workshops revealing her unique way of life.
image by Oded Antman
Source: neatorama