Erin Hupp is an Oakland-based ceramicist known for the moody, organic, rich works that she creates at the intersection of art and function. Ceramics have been a part of her life for the past 20 years, as she's been a teacher, a production potter, and worked in a pottery studio. Most recently, Erin has been busy making custom collections of wheel-thrown tableware for upscale restaurants in Northern California, such as Nightbird, and custom vases designed intentionally for the home. When working with restaurants and designers, she draws inspiration from the space and creatively collaborates with the chef or designer. Erin has come to view these restaurants as living galleries, where patrons can touch, hold, and feel her pieces firsthand.
Surprisingly, art wasn't Erin's first career. She holds a Juris Doctor and a Masters in Urban Planning from the University of North Carolina at Chapel Hill, and a Bachelors of Science from the University of Wisconsin at Madison. Erin practiced land use law and child welfare law before turning her focus to her art. She lives with her husband, two daughters, and son. And when she is not elbow-deep in clay, she's chasing her children, hiking, or dreaming up the next big family adventure.
Today Erin Hupp joins us for Friday Five!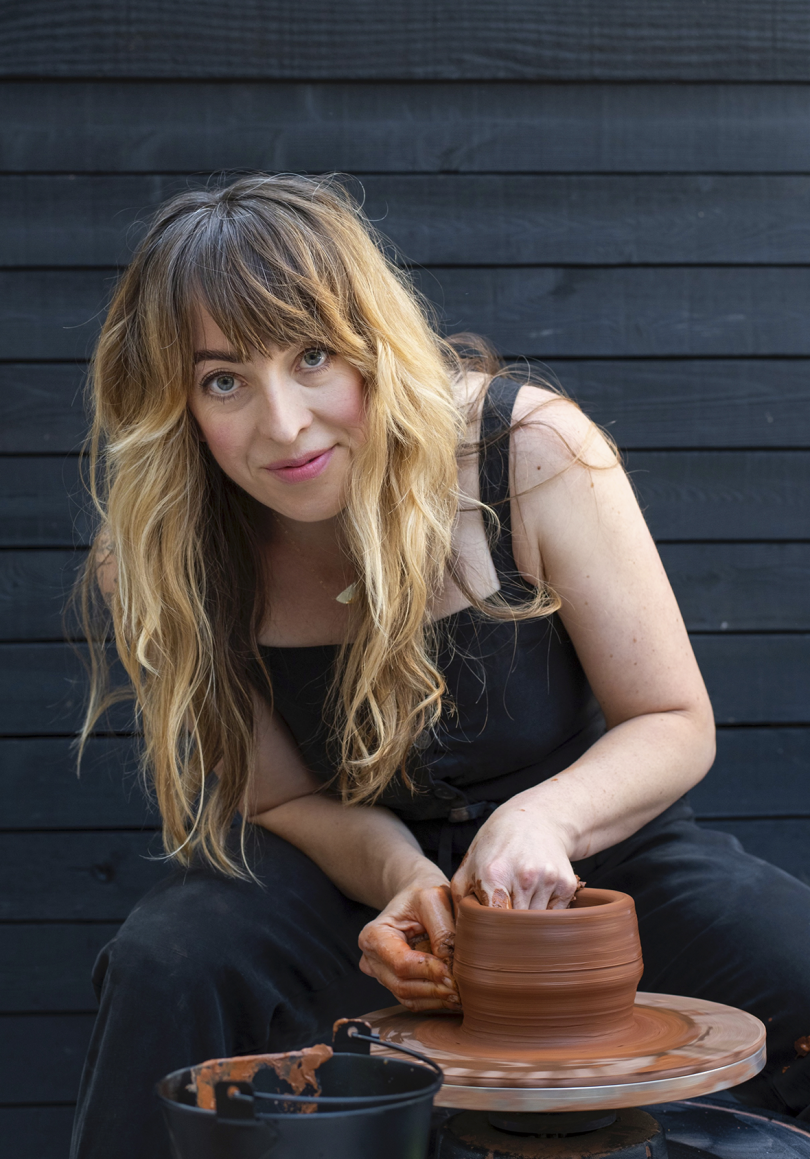 1. The Pacific Ocean, California Coast
Staring at a vast expanse of water is incredibly grounding and inspiring to me. I spend a lot of my life looking at things right in front of me – my potter's wheel, the computer, my phone. Looking into the distance is a reminder of my place on this beautiful earth. Most places I've lived are adjacent to a large body of water. I was born and raised in Milwaukee, Wisconsin. In wintertime it is stunning to see and hear the waves hitting the edge of the frozen, snow-covered shores of Lake Michigan. I went to the University of Wisconsin in Madison, which is situated on an isthmus between two beautiful Midwestern lakes, Lake Mendota and Monona. We would water-ski the lakes in the summer. In my early twenties I lived in Manly, Australia, where I learned how to surf. But it wasn't until I moved to California 14 years ago that I understood the true extent of my love for water, specifically the Pacific Ocean along the Northern California coastline. I visit the ocean often, whether it be for a run at Ocean Beach, a hike in Pacifica, or a family vacation at a little set of cottages called Mar Vista near Gualala, California. We hike down to the ocean to chase the waves, wade in the water, and poke at beached jellyfish.
2. Art in My Home
I'm fortunate to live in the Bay Area and be part of an incredibly strong artist community. My home features local artists and friends that inspire me daily. Pictured is my entryway ceiling and hallway, which were hand-painted by decorative artist Caroline Lizarraga. Caroline uses old-world hand-painting techniques with a modern twist. She first studied restoration in Florence, Italy and then moved onto decorative painting. She and I met because both of our art is featured at the San Francisco restaurant Nightbird and we collaborate with Chef Kim Alter. I am incredibly fortunate to walk by Caroline's walls every day in my own home. Her green malachite has prompted me to start my own color study in green. Other artists I have in my home include Jessica Matier, Jaime Lovejoy, Philip Salamone, Lily Gray, Rachel Robertson, and soon Jake Messing. Surrounding myself with these talented artists helps me create my art.
3. Fine Dining With Friends
Living in the Bay Area for 15 years has only deepened my appreciation of dining at restaurants with friends. The dining table is where we gather, celebrate, slow down, pause, and reflect. So many details are considered when building a beautiful dining experience, and I find all aspects of the experience inspirational to my own artistic process. After I've enjoyed the last bite of my meal, I turn the plate over to see who made it. It's delightful to flip a plate and see the name of a local artist rather than a big chain store. I highly recommend taking a closer look at the origin of your tableware next time you visit a fine dining restaurant. Ask your server about the glass-maker, ceramicist, wood carver, or knife-maker featured on your table. The chef of the restaurant specifically chose handmade items to complement their food.
4. Weightlifting
In my mid- to late thirties I endeavored to learn something new and challenging each year. First, it was lane swimming in a pool, because I had spent decades thinking of myself as a mediocre swimmer. Proving yourself wrong is quite satisfying. Next, I tried boxing, but I was concerned that I would injure my hands, which would impact my art. So, I moved onto lifting weights and I was hooked. That was four years ago. The benefits of lifting weights extend into everyday life. Transforming my ideas into physical forms on the potter's wheel takes concentration and arm strength. When my body is strong, I can lift and move my 25 lb bags of clay around my studio with correct form, confidence, and most importantly without injury. Weightlifting has also taught me to stop underestimating my abilities – both physical and creative.
The act of writing out my daily intentions, plans, and to-do list is essential. My go-to is a colorful Poketo planner. The cover is bright and cheerful. The pages contain enough of a detailed outline, but not too much structure. If I miss a week of planning I just move onto the next page. I try to shop local as much as possible to support my community, so I purchase my Poketo daily planners at Rare Device which is a special mix of art gallery, home, and gift shop. The owner, Giselle Gyalzen, is a long-time supporter of local San Francisco artists.
Work by Erin Hupp:
Source: design-milk