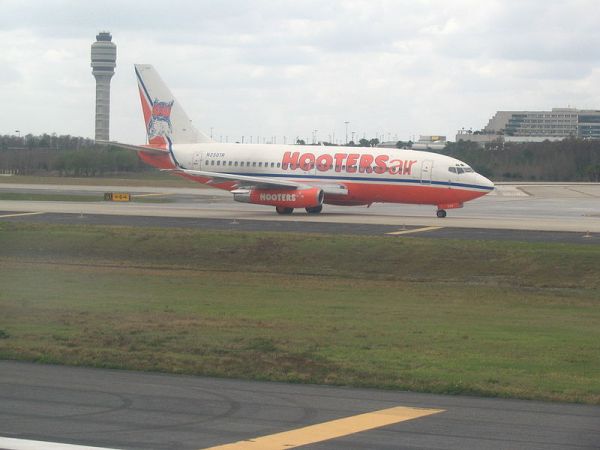 After the US airline industry was deregulated in 1978, suddenly everyone wanted to own their own airplane. Through the 1980s, small companies with a few planes sprung up like dandelions. Many were existing companies that has nothing to do with flight, but figured since they already had a brand, they could exploit it to make it in the passenger transport business. Like Hooters.
Hooters is best known as America's original "breastaurant" chain, with waitresses wearing revealing clothes and regularly enduring sexual harassment from customers. In 2003, the restaurant tried to move their business to the skies, launching Hooters Air.

The Hooters brand ambassadors weren't certified as flight attendants so their role was limited to drink and food service. Supposedly known for their wings, Hooters Air didn't serve their signature dish, just soft pretzels and pigs in a blanket.

At its peak, Hooters Air flew to 15 different cities, many of them smaller markets like Allentown, Pennsylvania, and Columbus, Ohio.
Alas, Hooters Air only lasted three years. But it was far from the only bizarre airline born in the '80s. Read about some other mind-bending erstwhile airlines at Paleofuture.
Source: neatorama