As part of our ongoing series highlighting exceptional artists showing in The Other Art Fair Dallas, we asked Dallas Fair Director Nicole Garton to select the artists she is most excited for people to discover. This week, she shares her insights into her latest pick.
The Other Art Fair Dallas Online Studios
Fair Director's Pick for the Week of January 6
Hyunsook Byun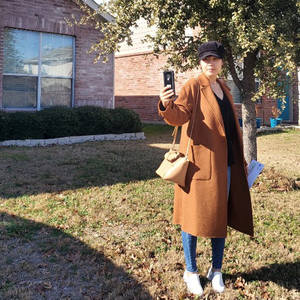 Hyunsook Byun is a South Korean artist, based in Fort Worth, whose "Yeo-ja[woman]" painting series grapples with beauty and illuminates a journey of obsession—and pointedly—survival, in a world where beauty is pursued "beyond all consequences." Drawing inspiration from portraits of the traditional Korean feminine ideal, she employs various materials—resin, foam, and ceramic—to magnify the highly prized hair embellishment 'Gache,' a sign of immense physical charm. Her fantastical exaggeration of the hair is both an indulgence in her desire for beauty, as well as an escape into an imagined other world.
Yeo-ja[woman] 8 by Hyunsook Byun | $6,600
Click here to shop Hyunsook's Portfolio
As Nicole forms her recommendations, she is considering key aspects of an artist's work that demand special recognition—whether it be a fully articulated style that is unique and arresting, a mastery of technical skill that reveals an uncommon talent, or a strong underpinning of ideas that is fresh and provocative. It is our hope this this series will help you discover an artist whose works you really love.
Click here to discover more Fair Director's Picks.
Visit The Other Art Fair Online Studios, a new online platform offering art lovers around the world access to over 800 Fair artists. The Online Studios is keeping our community feeling inspired, engaged, and is continuing to spread joy through art.
Source: saatchiart.com