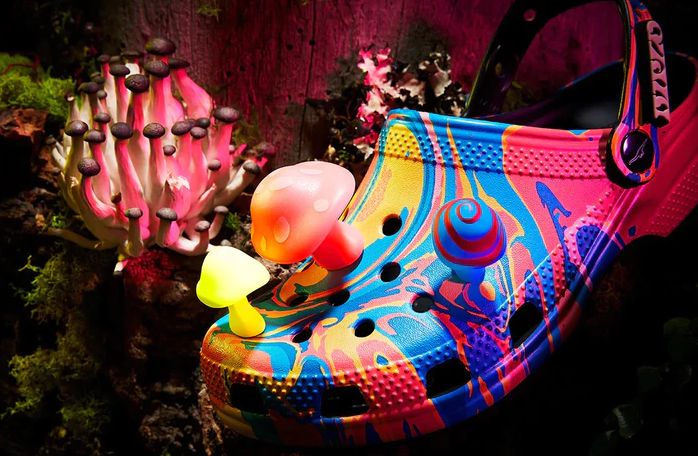 At some point imitation pieces were sure to appear. This doesn't come as a surprise. With Crocs rising to be the new trendy shoe, copycat versions of the rubber shoes are now all over the market. The company, of course, filed a 175-page complaint with the U.S. International Trade Commission to fight against the fakes, as Input magazine details:
Although Crocs have been around for years, the shoe's recent popularity explains why other brands might be seeking to make a profit off the chunky silhouette. Collaborations withPost Malone,Bad Bunny,Justin Bieber,Diplo, and evenBalenciaga have marketed the rubber clogs to nearly every consumer available — and have done so successfully, selling out drops in minutes and leadingCrocs' share price to an all-time high. According to TFL, the hype surrounding Croc's offerings is so great that the brand alleges that "the Classic Clog garnered nearly 25 billion observed media impressions in 2020, alone." Now is the perfect time to cash in on the growing demand for the clog, if court cases allow.
[…]
As a result, Crocs claims its shoes, including its "CROCS" word mark, "the three-dimensional configuration of the outside of an upper of a shoe, the textured strip on the heel of the shoe, [and] the decorative band along the length of the heel strap," are all distinctive enough to be recognized as belonging to the brand, TFL writes. And in a not so humble note, Crocs also claims that there are already an "infinite number" of footwear styles similar to its rubber clogs — so much so that the copycat market "requires constant attention," and as a result, "each year, customs and other enforcement officials around the world seize hundreds of thousands of shoes that improperly bear" Croc's trademarks.
Image courtesy of Crocs
Source: neatorama