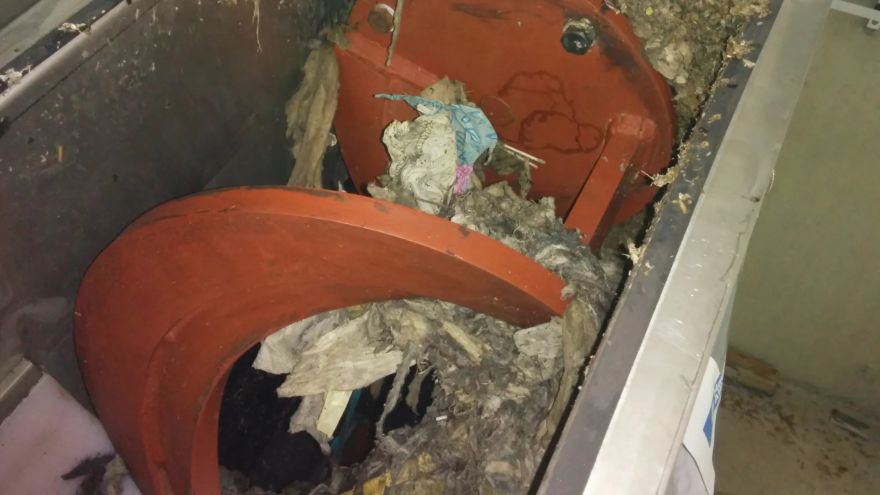 Sydney's sewerage system are increasingly being clogged by plastic toys, nappies, and tons of wet wipes, leaving workers frustrated as they are faced with months of cleaning up the mess. According to Sydney Water, around six dry tonnes of wipes are removed from the Malabar Wastewater Treatment Plant daily.
The wipes are particularly bad for sewerage systems as they join together and mix with cooled cooking oils and other greases to form "fatbergs" – a congealed giant mass of non-biodegradable matter which clogs pipes.
"It is extremely hard to remove because it is manually intense labour," Sydney Water's process control officer Luke Justice said.
"You can try and break the stuff off the line but it is physically hard in your hands.
"Each time you go in you see tonnes and tonnes of wet wipes, oils and fatty material blocking a sewer and cleaning it out is a massive undertaking."
[…]
The waste expert said while Sydney's problem is not as bad as Britain, about 500 tonnes of wet wipes have to be removed from the city's sewer network a year, and the problem is getting worse due to an increase in the use of wipes. The utility claims 75 per cent of blockages are caused by the cleaning product.
"I think people are starting to become more aware but they don't understand the scale of the problem that we are beginning to see," Mr Justice said.
More details of this news over at The Sydney Morning Herald.
What are your thoughts on this one?
(Image Credit: South West Water via AP)
Source: neatorama