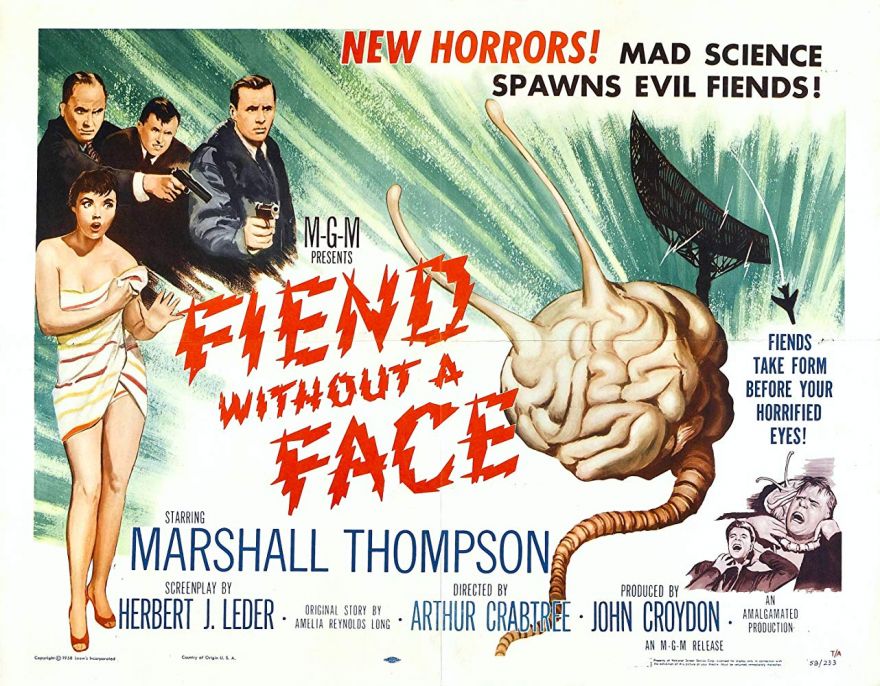 Speaking of B-Movies, one of the better ones of the Fabulous Fifties was 1958's Fiend Without A Face.
It had everything: nuclear radiation as the villain (again), beautiful women, toxically masculine men, a rather novel plot for the time – and creatures unlike any that had ever appeared on screen before. All that, plus one of the ghastliest combat sequence climaxes of that age; gross visuals and absolutely disgusting sound effects. Naturally, the drive-ins were packed.
In essence, the film summary is this – A scientist, experimenting with matter and energy interaction near a military nuclear power plant, accidentally creates a new form of life. This life form, invisible at first, escapes his laboratory. Once outside the lab, and closer to the nuclear power plant, it begins to multiply by draining atomic energy. Horrific and mysterious murders ensue, and the nuclear power plant's increasing energy output finally causes the creatures to become visible, by which time it is almost too late to stop them.
Fortunately, the entire film is available in large format on YouTube and is embedded below. As a bonus to the Neatoramanauts, I also include this movie's review from badmovies.org here. What are you waiting for?
Source: neatorama