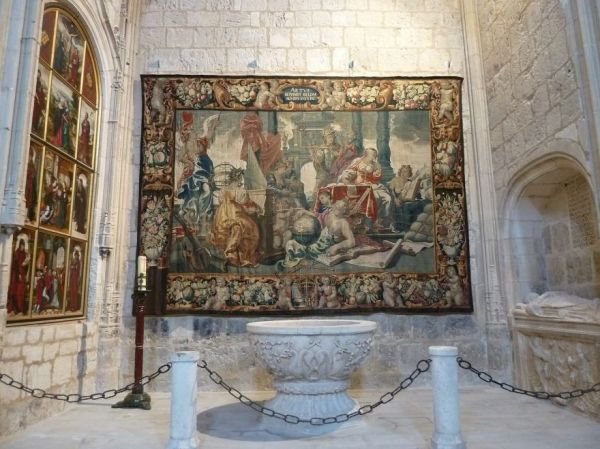 Art is often considered a form of worship. Hundreds of small towns in Europe have churches and chapels containing priceless Renaissance (and older) artworks that are not as well-known as those hanging in art museums. The church in Castrojeriz, Spain, had a half-dozen 17th-century Flemish tapestries created by a follower of Peter Paul Rubens named Corneille Schutz. The tapestries depicted the muses of the liberal arts. The largest was 13 feet tall and 20 feet wide! And in November of 1980, a thief came in and took them all.
The tapestries were tracked down one by one over the next few years, and so was the art thief. René Alphonse Ghislain van den Berghe had stolen thousands of artworks, and then spent many years helping police to recover them. But the largest of the Castrojeriz tapestries had been vandalized. It was missing a two-foot-square section of the lower left corner, which depicted an angel. It took more than 40 years for the missing piece to be found, but now it has been turned over to the curators of the collection.
Read the tale of the notorious art thief and the missing piece that has finally been reunited with its puzzle at Smithsonian.
(Image credit: Carlospalacios)
Source: neatorama