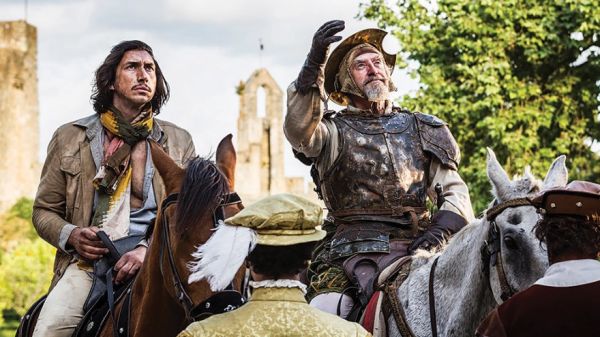 Filmmaker and founding member of Monty Python Terry Gilliam has been trying to make a film about Don Quixote since 1989. The story is loosely based on the novel Don Quixote by Miguel de Cervantes, with a time-travel twist from A Connecticut Yankee in King Arthur's Court by Mark Twain thrown in. But the project turned out to be as elusive as the don tilting at windmills. Wikipedia tells the story.
Gilliam started working on the film in 1989, but was unable to secure funding until 1998 when it entered full pre-production with a budget of $32.1 million without American financing, with Jean Rochefort as Quixote, Johnny Depp as Toby Grisoni, a 21st-century marketing executive thrown back through time, and Vanessa Paradis as the female lead. Shooting began in 2000 in Navarre, but a significant number of difficulties such as sets and equipment destroyed by flooding, the departure of Rochefort due to illness, problems obtaining insurance for the production, and other financial difficulties led to a sudden suspension of the production and its subsequent cancellation. The original production was the subject of the documentary film Lost in La Mancha, which was intended to be a making-of but was released on its own in 2002.

Gilliam made repeated attempts to relaunch production between 2003 and 2016, which included Depp, Ewan McGregor and Jack O'Connell as Toby Grisoni and Robert Duvall, Michael Palin, and John Hurt as Quixote. However, all ended up being cancelled for various reasons, such as failing to secure funds, Depp's busy schedule and eventual loss of interest in the project, and Hurt being diagnosed with the cancer that would eventually result in his death. After yet another failed attempt, it was unexpectedly reported in March 2017 that filming had finally started, with Driver, who was confirmed as Grisoni in 2016 and helped secure funding, and Jonathan Pryce as Quixote. On 4 June 2017, Gilliam announced that the shooting of the film was complete, 17 years after it originally started.
The Man Who Killed Don Quixote premiered last May at the Cannes Film Festival. It played in theaters in Europe, and after 30 years is finally going to be shown in the US. However, it will be screened for one night only, on Wednesday, April 10. Go figure.
Source: neatorama