Accio beaucoup bucks! If you've got a first edition Harry Potter and the Philosopher's Stone (which was renamed Harry Potter and the Sorcerer's Stone for the USA market), it could be worth a lot of money – even if the book is well thumbed or even doodled on!
This hardback copy of the first Harry Potter book – one of only 500 in the first print run in 1997 – was just sold at auction for a staggering £15,500 (USD 20,400), more than five times the top estimate of £3,000. That's a lot of galleons in the Gringotts Wizarding Bank! The book was sold to an anonymous online bidder.
The book seller, a businessman who wished to remain anonymous, picked the book up at a charity shop last year for only 50p. Charles Hanson, owner of the Hansons Auctioneers and the auctioneer on the day the book was sold, said this about the doodled book:
"What a battle for the battered and bruised Potter! We're calling it the Mancunian Potter because it was found in a charity shop in the city.
"In my opinion, it deserves to be in a museum. Those doodles, penned by a child who loved the book and its characters, encapsulate the power of the Potter phenomenon. It really is quite charming. I'm absolutely delighted for the seller – and the buyer who has purchased a piece of book history."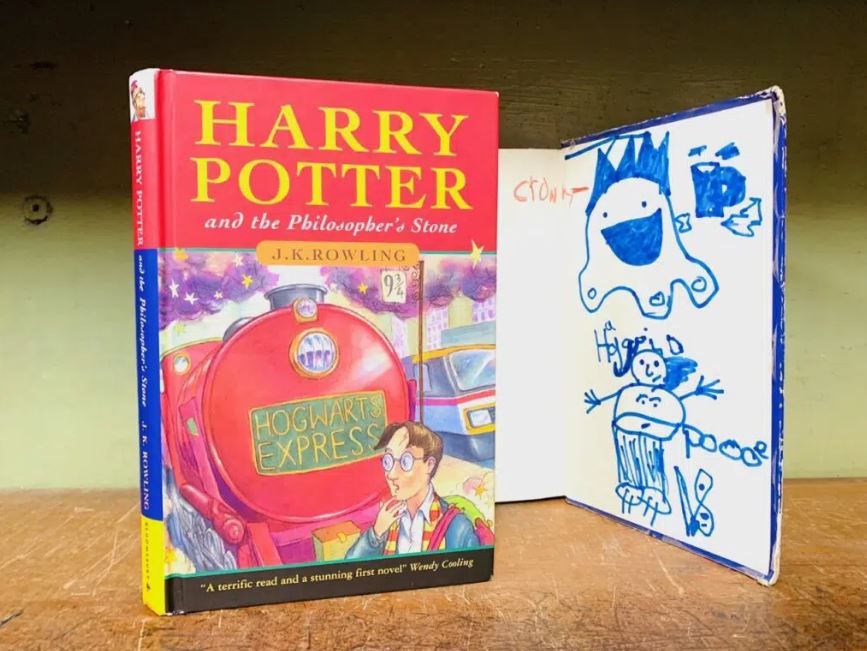 Images: Hansons
Source: neatorama