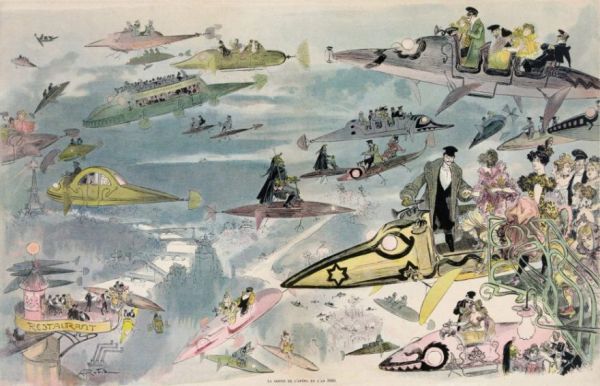 We know Jules Verne, who gave us science fiction and, a century later, steampunk. But he wasn't the first to write about how technology would affect the future. Another was Albert Robida, who wrote in French, but just as wondrously, also drew his visions of the future.
In the late 1800s, the French illustrator and novelist wrote an acclaimed trilogy of futuristic novels, most notably, The Twentieth Century, an important work of early science fiction often overshadowed by the work of Jules Verne, who is generally viewed as one of the creators of the genre of Science Fiction.

Falling somewhere between The Jetsons and Charles Dickens, some of his fanciful predictions recall the overzealous futurism of the 1950s and 60s in response to the Space Age. Robida was of course living through his own "Space Age" of sorts at the end of the 19th century when the first aeronautical expeditions were just taking flight in France.
Robida not only envisioned flying machines, tall skyscrapers, and video phones, but also a world of gender and racial equality. While his works are available online, they are in French. So you might want to read about Robida and see a collection of his futuristic illustrations at Messy Nessy Chic. 
Source: neatorama