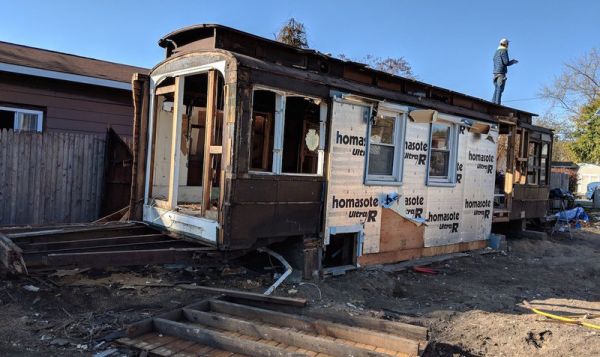 The older a home is, the more stories it has to tell. The various owners and tenants may be long gone, but they leave traces behind in the changes they make to the home. Brandon Breza and Marc Manfredi went in together to purchase a house in Hamilton, New Jersey, with a plan to renovate it and rent it out. As they tore into the walls, they found something really peculiar.
As they removed a layer of insulation, they found, to their surprise, a hidden set of windows inside a wall. They peeled back drywall and revealed a window shade marked with the year 1912. Behind another wall was a door. Bit by bit, they uncovered piece after piece, until an entire rail car emerged—ensconced smack in the center of the house.

Aside from taking down part of the ceiling, which they didn't realize was original, they did little damage to the car. Breza and Manfredi began contacting everyone they could think of to find the source of the odd gem, which they thought was from a train, and what could be done with it.
It wasn't a train, but a trolley car. The find set Breza and Manfredi on a search for the real story of the house and the historical trolley car inside it, which you can read at Atlas Obscura.
(Image: Courtesy of Brandon Breza)
Source: neatorama