A pioneer and a visionary, Frank Lloyd Wright (1867-1959) is widely considered to be one of the greatest American architects of all time. Wright's popularity is unsurprising, as the architect designed more than 1,000 structures throughout his 70-year career, 380 of which are still standing, and eight of which have been designated World Heritage Sites by UNESCO. These structures memorialize the architect's ingenuity and prolific career as one which forever altered the American landscape.
Frank Lloyd Wright's influence can be traced to the Prairie School, a movement he pioneered at the turn of the 20th century. Prairie School architects were encouraged to simplify their designs and increase financial accessibility for clients, unlike the elaborate and costly designs of their Neoclassical and Victorian predecessors. This approach made comfort affordable through the use of mass-produced materials, open spaces, and standardization of technique. The Prairie style ultimately shaped the basis of 20th century residential architecture in America. 
Wright also championed the philosophy of harmonizing man-made structures with their natural environment, subscribing to an organic approach to architecture. Landscape and site were not seen as contradictory or separate but were instead developed as a singular entity through an emphasis upon windows, low-pitched roofs, and continuous horizontal lines. This approach is evident in his famous structure Fallingwater, a private residence designed by Wright in Mill Run, Pennsylvania. This residence was constructed over a 30-foot waterfall, exemplifying the inspiring capabilities of architecture, innovative design, and harmony with one's natural environment. Other iconic Frank Lloyd Wright buildings include the Guggenheim Museum in New York City; the Marin County Civic Center in San Rafael, California; and Taliesin West House in Scottsdale, Arizona. 
Check out these Saatchi Art artists who share the seminal architect's appreciation for form, harmony, and nature, and epitomize the integration of artistic expression and technical mastery that marked Wright's career.
Migdalia Salazar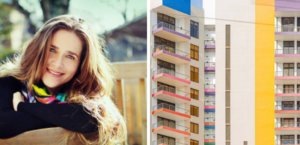 A native of Caracas, Venezuela, Migdalia began her artistic career as a painter, but now predominantly concentrates on photography. Her work captures the balance and harmony found in architecture, a pronounced appreciation shared by Frank Lloyd Wright. Her admiration for such architectural forms is not simply artistic in nature; Migdalia studied civil engineering and architecture at the technical level prior to her artistic career. With this specialized knowledge, Migdalia skillfully fuses creative expression with these structures, abstracting segments of buildings to create unexpected color planes and stimulate the viewer's imagination. Migdalia holds an appreciation for international architecture and is an international artist by nature, exhibiting inGreece, Guatemala, and Miami, where she is based. See more of Migdalia's work here.
Heinz Stoewer
Heinz Stoewer's work is largely influenced by modernist architecture, natural landscapes, and their synergistic interaction with each other. Heinz' style captures a photorealistic, vivid portrait of architectural landscapes, ultimately embracing both abstract color and stark realism. One might recall Frank Lloyd Wright's Fallingwater when viewing Heinz' art, as both juxtapose the free-flowing, organic form of water with contemporary geometric designs. See more of Heinz' work here.
Cécile van Hanja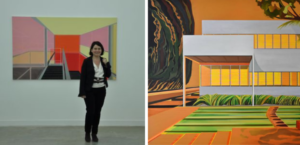 Cécile's prolific exploration of architectural structure and design is evidenced throughout the breadth of her work. Impressive man-made structures command her paintings through expertly juxtaposed  lines and geometric compositions. Cécile is a self-proclaimed admirer of modernist architecture and, just as Frank Lloyd Wright expressed, appreciates transparency in structures through open spaces and vast windows. She intensifies the depth of this transparency in her artwork through a play on vivid color and intricate layers. A truly international artist, Cécile's work is currently held in private collections spanning the US, Japan, and the Netherlands, among other countries. See more of Cécile's work here.
Harrison Tobon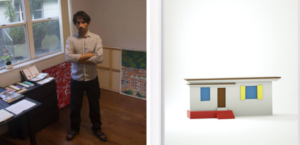 Harrison Tobon is a Colombian artist whose mediums consist of painting, drawing, and sculpture. His artwork integrates these varied mediums to convey an appreciation of color and balance in everyday structures. Harrison ultimately aims to spark a discussion regarding urban development through his work, arguing for the economic allocation of properties and land for public use. This social philosophy aligns heavily with Wright's Prairie School approach to architectural planning, emphasizing the utmost economic achievement of architectural spaces for the everyday man. Harrison's colorful and minimalist works similarly suggest that economical buildings can exemplify artistic harmony and creative refinement. See more of Harrison's work here.
Love reading about all things art? You can have articles from Canvas, curated collections, and stories about emerging artists delivered straight to your inbox. Sign up for the Saatchi Art Newsletter.
Source: saatchiart.com