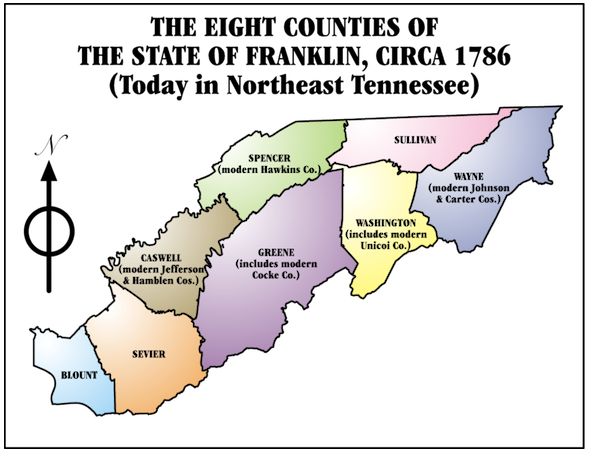 In 1784, just a year after the Revolutionary War ended, the US suffered its first secession. Several counties in what was then North Carolina, now Tennessee, decided they would be their own state, the 14th state, called Franklin after Benjamin Franklin. The residents who had lived and worked there all their lives felt they had no choice. The federal government threatened to seize their land. North Carolina wanted to keep them. Native Americans had a treaty that also carried a claim. And the US hadn't worked out any plan to create new states in addition the the original 13.   
One of the primary political concerns of the Franklinites was that the North Carolina government and the federal government would sell their land from beneath their feet. That fear was grounded in reality, as North Carolina had ceded the territory west of the Appalachians to the United States for the purpose of resale just months before the formation of Franklin.

In 1784, the United States owed massive debts to its allies from the Revolutionary War. Without the power to levy taxes, the Continental Congress, which was the federal governmental body in charge before the U.S. elected its first president and ratified its Constitution, had to get creative in how they compensated their lenders. One way the U.S. did this was by accepting land ceded from the 13 states and selling land titles to settlers. North Carolina's cession of the territory on the other side of Appalachia threatened to make the Franklinites trespassers on the land on which they lived and worked. When North Carolina changed its mind about giving up the territory in November 1784, it was too late. Washington, Sullivan, and Greene representatives met in Jonesborough, a city in Washington County, and declared their sovereignty in the form of the brand new State of Franklin.
The state of Franklin was never officially recognized by North Carolina nor the US government, but locals fought for it for four years, including one deadly gun battle. Read the story of Franklin at Atlas Obscura.
(Image credit: Iamvered)
Source: neatorama