The following article is from the book Uncle John's Bathroom Reader Plunges into California.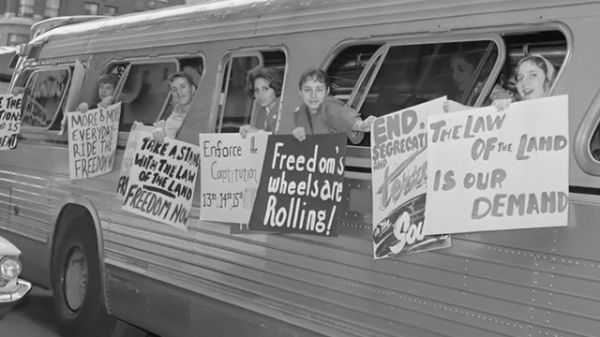 On August 9, 1961, a group of 11 college students from Los Angeles boarded a train at Union Station. Their destinations: Louisiana and Mississippi. Their goal: to protest racism and segregation.
THE TIMES THEY ARE A' CHANGIN'
The Freedom Riders were people -black and white, generally male and under 30- who traveled on busses into the American South to protest racial inequality and violence. In the 1960s, even though nearly 100 years had passed since the Civil War, the South was still a stronghold of prejudice and segregation supported by Jim Crow laws, a series of state and local laws that discriminated against African Americans and maintained "separate but equal" facilities for whites and blacks. There were segregated water fountains, bathrooms, restaurants, public schools, and public transportation. In the 1950s and '60s, Americans began challenging those laws, maintaining that separate facilities were inherently unequal. There had been a little change already- in 1954, with the famous Brown v. Board of Education decision, the U.S. Supreme Court declared segregated public schools to be illegal. But in the Deep South, racial prejudice, segregation, and violence still reigned.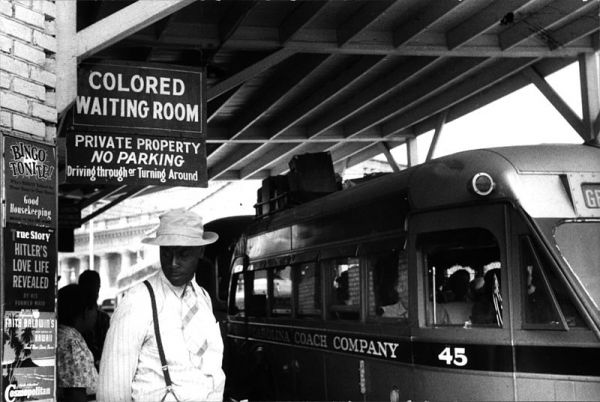 In 1960 the Supreme Court issued another decision, stating that segregated trains, buses, and other forms of transportation or their facilities (stations, bathrooms, and so on) were also illegal, but the southern states simply ignored the ruling. On trains and buses throughout the South, African Americans were required to sit in the back or give up their seats to white patrons on demand. The goal of the Freedom Riders was to bring attention to this injustice and encourage the federal government to start enforcing the Supreme Court's 1960 decision.
GET ON THE BUS
On May 4, 1961, the first group of Freedom Riders -seven African Americans and six whites- left Washington, DC, on two Greyhound buses. Their plan was to ride through the entire Deep South (Virginia, North Carolina, South Carolina, Alabama, Georgia, Mississippi, Tennessee, and Louisiana). But they were so severely harassed and attacked -beaten, bloodied, and jailed, their buses firebombed and destroyed- that they made it only as far as Birmingham, Alabama. In a response on behalf of the U.S. government, Attorney General Robert Kennedy called for a "cooling off period," essentially asking the Freedom Riders to abandon their cause. They refused. Instead, more and more Freedom Riders volunteered throughout the summer -eventually, more than 400 in all, including 100 from California- and 11 of them were organizing in Los Angeles.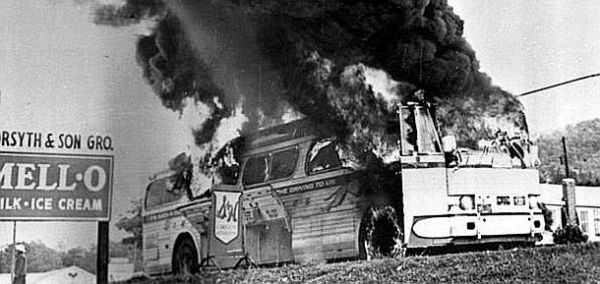 Life for African Americans on the West Coast during the 1950s and '60s was slightly better than for their counterparts in the South -for one, there were no Jim Crow laws in California- but it wasn't great by any means. During World War II, many African Americans had moved west in search of jobs in industry and defense, but when the white soldiers came home, black workers were pushed out. That created a racial divide and deep poverty in traditionally black areas of California's cities. In Los Angeles especially, African American residents were more likely to be poor and uneducated than their white peers. As a result, the city had become one of the epicenters of the Civil Rights movement. Pastors and activists held rallies all over L.A. and Reverend Martin Luther King, Jr. visited several times. So it wasn't surprising that the Freedom Rider movement found a sympathetic ear in Los Angeles.
COLLEGE STUDENTS ON A MISSION
"The calls went out to students around the country," said Robert Farrell, a member of the Los Angeles City Council from 1974 to 1991. "Let's save the Freedom Riders." In 1961, Farrell was 24, a UCLA graduate who was interested in civil rights. He and ten others from various L.A. colleges joined the cause. Supported by the Congress of Racial Equality (CORE), a group dedicated to ending racial discrimination, the students met at Union Station in downtown L.A. on August 9, 1961, and boarded a train bound for Houston, Texas. Their plan was to disembark there, and then board buses that would take them into Mississippi and Alabama, the heart of Jim Crow country. Said Farrell, "We were going to carry out a mission… and we understood what the risks were. We knew there [were] going to be arrests and jailing. But it was worth taking a risk."
At the train station in Houston, the L.A. students met up with another group from Texas Southern University. They all sat together at a segregated coffee shop lunch counter inside the station. Like the rest of the South, Houston was under the thumb of Jim Crow- black and white students sitting together in a coffee shop drew lot of attention. The cooks and waitresses refused to serve them, and pretty soon, a gang of angry segregationists assembled outside. Within an hour, the group had morphed into a mob that shouted and spit racial epithets at the students. Police quickly arrived …and arrested the students, hauling them off to Harris County Jail.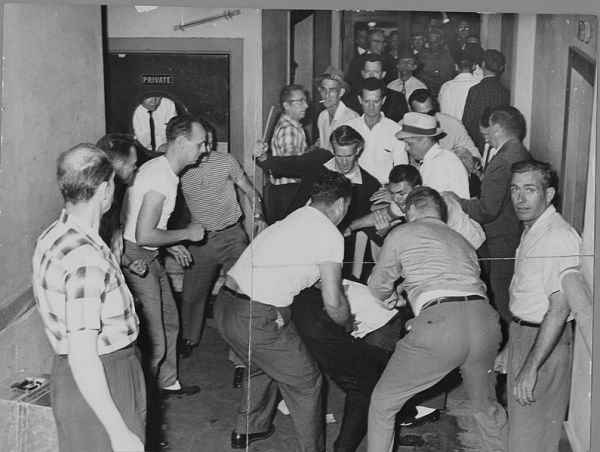 In jail, the students were booked and placed in holding cells, where several of them were attacked by fellow inmates …all under the watchful eye of the guards. According to Freedom Rider Steve McNichols, "We were in there for two days, living by our wits and trying to make as many friends as we could."
"A SIGNAL OF VICTORY"
The 11 Freedom Riders from L.A. never made it beyond Houston. CORE bailed them out of jail, and the battered, exhausted, hungry group returned to California. But that was no sign of defeat. As the American people watched the nonviolent Freedom Riders being beaten on TV, outrage began to spread, and by September, the federal government agreed to enforce the 1960 Supreme Court decision. Farrell said, "We took that as a sign of victory."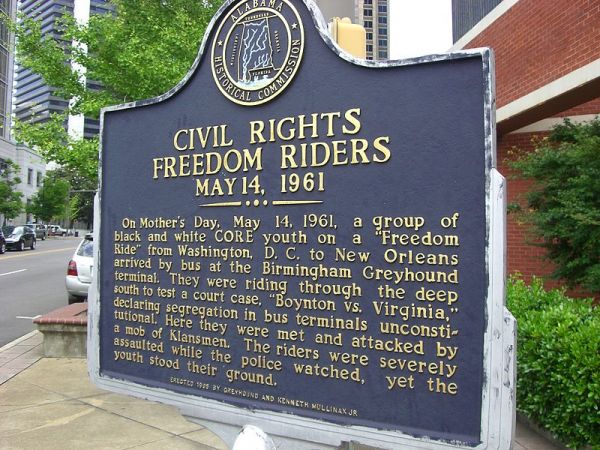 (Image credit: Kevin)
Other victories would follow: In many cases, the Freedom Riders didn't just focus on transportation. Like the L.A. group, they sat together at segregated restaurants and coffee shops in the cities they visited. They were especially successful when they targeted big businesses, many of which had headquarters in the North. Unwilling to face boycotts or trouble at home, the businesses often voluntarily desegregated their Southern establishments. And then finally, in 1964, President Lyndon Johnson signed the Civil Rights Act, which outlawed all forms of racial discrimination. The struggle for civil rights continued for at least another decade, but finally, at least, the protesters had the law on their side.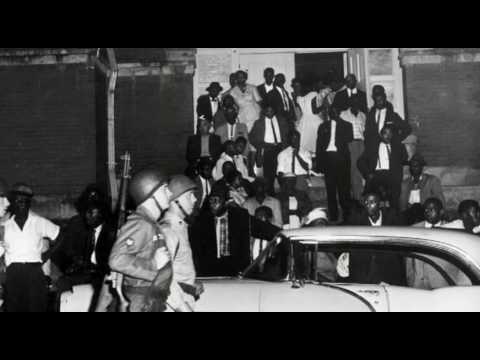 (YouTube link)
___________________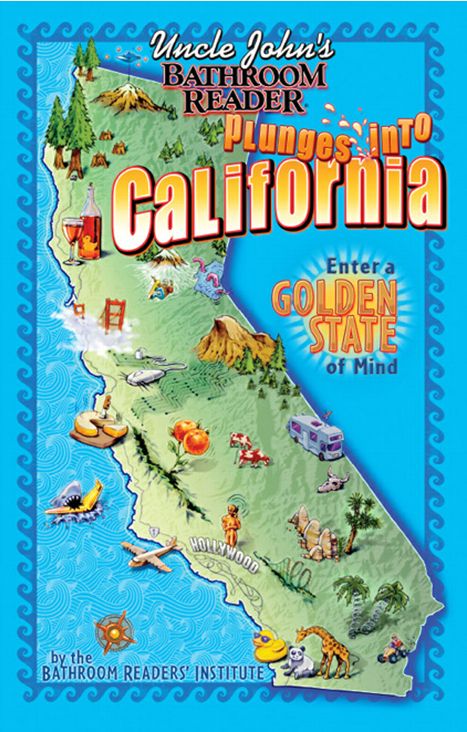 The article above was reprinted with permission from Uncle John's Bathroom Reader Plunges into California. This volume brings you stories of the Golden State you've never heard before. You'll meet child prodigies, spies, traitors, celebrities (and sidekicks), gossips, hermits, humanitarians, and zealots.
Since 1988, the Bathroom Reader Institute had published a series of popular books containing irresistible bits of trivia and obscure yet fascinating facts. If you like Neatorama, you'll love the Bathroom
Reader Institute's books – go ahead and check 'em out!
Source: neatorama