At the 2018 IDS Toronto in January, we will again be sponsoring their Maker section, which helps give a platform to designers, makers and brands who are innovating, making a difference or creating design that betters our lives. The Maker section is perfect for businesses that have manufacturing capabilities, and are looking to expand distribution, and we are lucky to be part of the process of choosing them. We're talking to two designer/makers from Maker to give you a taste of what you're going to be seeing in January:
Montreal-based company Kastella, led by designer/maker Jason Burhop is a made-to-order shop that takes pride in all the work that they do. Their handmade pieces are carefully crafted to meet each client's specifications using natural materials and eco-friendly finishes. Back in the late 90s, Jason took over a friend's furniture workshop where he spent many hours honing his skills and slowly designing his first collection. Now, even with a larger team of close to 20 people, he's still committed to staying local and making sure that they keep manufacturing local. Additionally, he's also been operating a retail space since 2003. I talked to him about how he got started and how he's able to grow while staying committed to local manufacturing.
How did you get into woodworking?
I got into woodworking in 1999, 4 years after finishing a psychology degree at Queen's University. I had always been interested in design and wanted to change direction and follow my passion. I had taken over a friend's workshop and was producing custom cabinetry and furniture out of a small atelier in the St-Henri district of Montreal.
By 2003, I had put together a small collection of solid wood residential furniture. It was then that I decided to open the retail business in Montreal and pursue the craft on a more serious level.
How long has your design studio been in business and how has it changed over time?
Kastella has been in business since 2003. When I opened our retail location, we were 3 people. I was designing and building the furniture with the help of an apprentice. My mom worked in the store during the week and I covered the weekend shifts.
The business has changed on two significant fronts since we opened. The style of the furniture has evolved over the years. In the early days, the pieces had a more classic, shaker feel. Over time, the aesthetic has become more contemporary in concept and execution. The company has also grown since 2003. We've expanded our production facility and built a solid team of dedicated craftspeople.
How many people work with you at Kastella?
Our team is currently 19 strong. We have 2 people on the retail side of the business, 15 in our production facility, myself and my wife who handles business development and marketing. Half our team is dedicated to the production of our retail collection. The other half produces architectural millwork projects, something we've been doing since the beginning.
How did you come up with the name Kastella?
I wish there was a better backstory! I was traveling in South America in the late 90's and the word castellano (meaning Spanish) kept coming up. The name Kastella is an evolved version but it wasn't until I incorporated the company, that I realized it was actually a small fishing village in Greece. My roots are northern European, so no relationship there.
As a small business owner, what are some of the challenges that you face?
The biggest challenge is managing all aspects of the business. From day to day production to retail sales and client relations, time management is the number one issue. As the business has grown, I've been able to delegate some of the tasks. Finding time to design and be creative remains my focus.
You say your products are hand-crafted. What kinds of techniques are you employing in building each piece and are you using any modern technologies?
Our shop is equipped with standard machinery and we ultimately rely on the expertise of our individual team members to create high quality pieces. From the milling of the rough lumber to assembly and finishing, the bulk of our line is built by hand. Our T110 dining room table, for example, uses mortise and tenon joinery to ensure an exceptional level of durability.
While we don't have any modern technology in our production facility, we do subcontract the production of a few key components to local CNC shops. The C401 stool top, as an example, is machined on a 5 axis CNC by a local company. The shape of the seat is so complex that it can only be done this way. We definitely take a traditional approach to furniture production. Each piece is produced from beginning to end by one furniture maker.
How has modern technology (if at all) helped your business – either for manufacturing and/or marketing?
The use of CNC subcontractors has definitely allowed us to push the limits of our designs. While very few pieces in the collection require it, CNC's have given us the ability to produce certain parts more precisely and at a more reasonable cost.
While we do have a social media presence, our current market is local and as such, word of mouth has been our best source of marketing. As we look to other markets, technology will become increasingly important.
Your pieces are classic in materials and form – what inspires your designs?
I've always been a big fan of both Scandinavian and Japanese furniture design. I have an appreciation for well thought out, simple objects and this has definitely inspired my own creative process. I've always believed that timelessness in design is extremely important. Our company puts the emphasis on durability from both a physical and aesthetic perspective.
What is the most challenging piece of furniture you've ever made and why was it so?
Designing and building chairs would be the most challenging. The C205, which we're showing at IDS, took over a year to prototype. Combining durability, aesthetics and comfort in a piece of furniture which gets a ton of use, pushes our technical limits.
What piece will you be bringing to IDS Toronto in January?
We'll be bringing our T110f dining room table in walnut with a black Fenix top, our C205 chair in walnut, our T504 console in walnut, our S404 buffet in walnut and a few C401 stools in black stained white oak.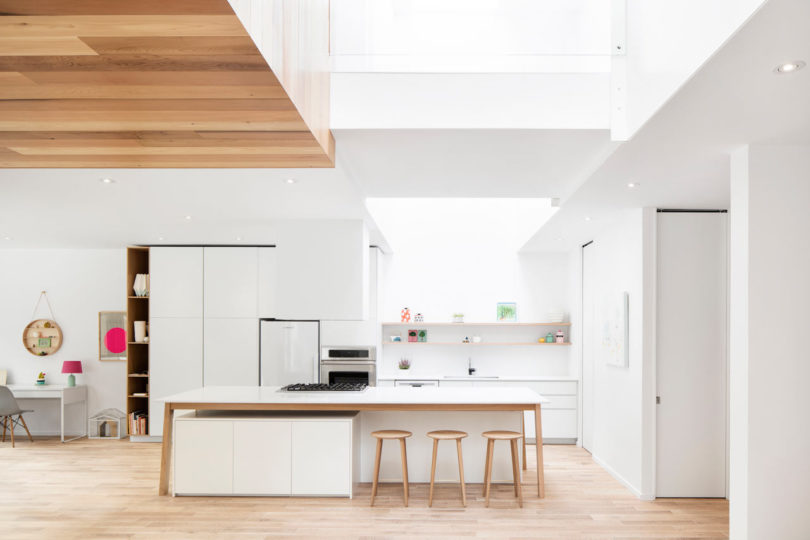 What's unique/interesting/different about Canadian design? In other words, what makes Canadian design, Canadian?
There's been a lot of discussion surrounding Canadian design over the past few years and what defines it. Canada has a long history of furniture production and the emphasis has and still is on solid wood. There's clearly a northern European bent to much of the contemporary furniture being produced in Canada. Our identity, in my opinion, is still evolving but it's clear that our tendency is towards simple, elegant and well made furniture.
Visit Kastella at kastella.ca and register for IDS Toronto here.

Source: design-milk