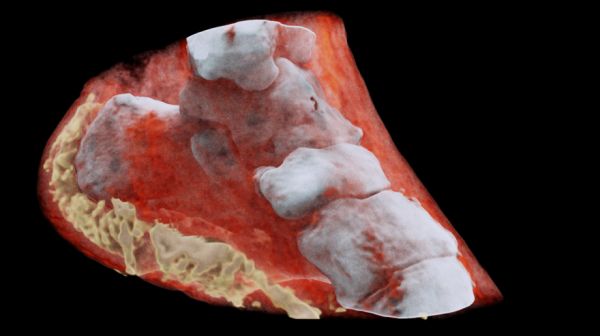 Full-color x-ray images sound too cool to be real, although seeing one can also give you the creeps. This is an ankle. The white is bone, the red is muscles, and the yellow is the cushioning under your heel. That's a real, live person's insides you're seeing! You can also see this ankle from all angles, and even in slices. The new technology from New Zealand company MARS Bioimaging is based on a scanning method developed at CERN.
The MARS scanner uses a family of chips called Medipix, originally developed to track particles at the Large Hadron Collider. Medipix works like your camera — when the electronic shutter is open, each individual particle is detected and counted, creating high-res, accurate, noise-free images.

When used with the Butlers' MARS scanner and its software, the chips help to produce highly accurate, striking, three-dimensional color renderings of the human body that distinguish materials like metal, bone, soft tissue, and fat with different tones.
The x-rays are expected to go into clinical trials in the next few months. Read more about it and see videos at Mashable.
(Image credit: MARS Bioimaging)
Source: neatorama