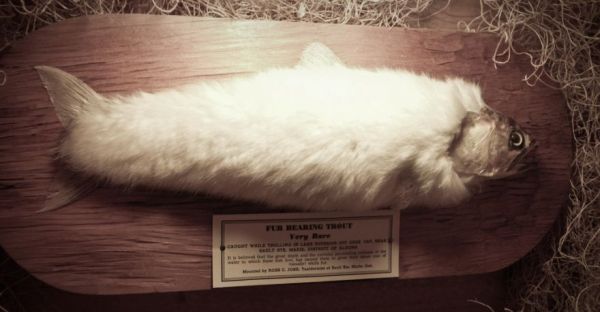 In 1935, William C. Adams was chief of the Division of Fish and Game in New York State. He had previously held that same post in Massachusetts, and was by all accounts an expert in the field. But at the annual meeting of the Angler's Club, he excitedly told the audience about a new species of fish that had been discovered in Yellowstone- the fur-bearing trout. He explained that the trout had evolved to grow fur because the water was so cold, and that Native Americans harvested the fur because it prevented goiter.
We don't know whether Adams ever recovered from the incident, which made the newspapers. The fur-bearing trout is as real as a jackalope or a drop bear, and whoever told that fish story to the fishing expert apparently made it quite convincing. However, he may have read it in a 1929 issue of Montana Wildlife magazine, which was published by the Montana State Fish and Game Department.
I wasn't familiar with fur-bearing trout, but I'm no fisherman. It is a legend that goes back to Iceland in the 17th century. It is told wherever bodies of water may be cold enough to convince visitors, and especially in places where taxidermists know how to wrap a fish in rabbit fur. In places where the water is warmer, the story often includes the detail of its origin, when someone spilled hair tonic in the local waterway.
(Image credit: Samantha Marx)
Source: neatorama