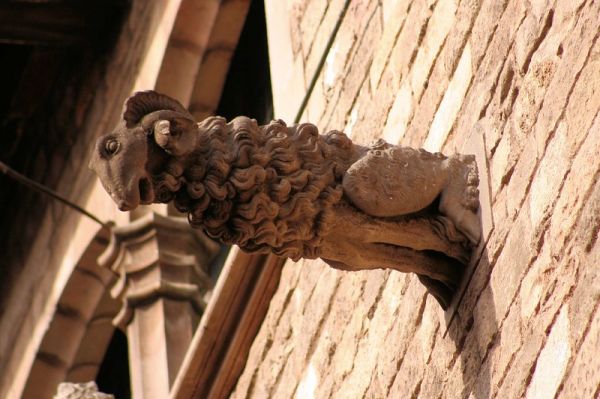 Gargoyles are stone waterspouts that direct water away from the roofs of large buildings such as cathedrals. They were often intricately carved into the forms of animals, real or legendary, as symbols. On cathedrals, these were often symbolic of the seven deadly sins.
Barcelona Cathedral has this marvellous goat gargoyle. Like many of the animals featured here it had a duality of nature in the eyes of medieval Christians. On one side they were thought to be Christ-like because of their ability to find food on steep mountainsides and nourish themselves from almost nothing (the Feeding of the Five Thousand springs immediately to mind as a parallel). On the other hand they were seen as venal creatures and were often perceived to be a symbol of lust – yet another one of those seven deadly sins. Plus, of course, which animal would you most naturally associate with Satan?
But gargoyles also took the forms of chimeras, dragons, and other fantastical creatures that served as a warning to those who saw them. And yes, medieval gargoyles were also carved in the forms of people, often those who were being punished for their sins. See a roundup of gargoyles and their meanings at Kuriositas.
(Image credit: Flickr user Son of Groucho)
Source: neatorama