GDGDA, 2011
akwong
Wed, 07/15/2020 – 17:24
In GDGDA Tacita Dean captures Mehretu working in her studio, offering spectators a glimpse into a practice that is often shrouded and solitary. The camera looks over Mehretu's shoulder as she works deliberately and intensely on Mural, a monumental corporate commission, in Lower Manhattan; "GDGDA" translates to "wall" or "mural" in Amharic, one of the Semitic languages of Ethiopia.
With this and similar works, Dean endeavors to create a new kind of biographical film, based on observation rather than narration. Simultaneously, she carries on the tradition of artists documenting one another in the midst of creation.
Image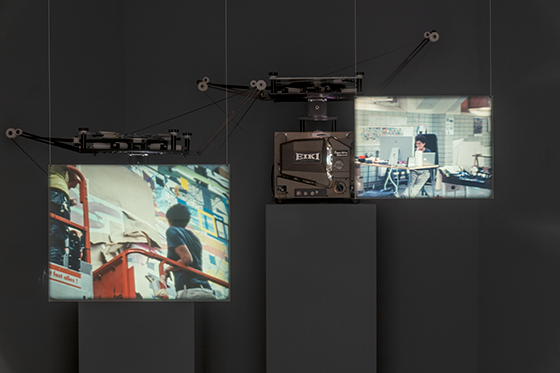 Tombstone
GDGDA, 2011
Tacita Dean
United Kingdom, b. 1965, active United States
Two 16mm color films, mute, looped
4 minutes; 3 minutes
Courtesy of the artist and Marian Goodman Gallery, New York/Paris; Frith Street Gallery, London With: Julie Mehretu and Erika Fortner, Cormac Graham, Eric Kuhl, and Damien Young; camera: Tacita Dean; assistant: Ariane Pauls; rushes: Geyer, Berlin; neg cut: Reel Skill Film Cutting Ltd; first printed by: Soho Film Lab, London, with thanks to Len Thornton; installation: Kenneth Graham, KS Objectiv; originated on: Kodak Motion Picture Film; with thanks: Julie Mehretu and her studio assistants, Jessica Rankin and Mathew Hale; filmed on location at Julie Mehretu Studio, Ludwig Loewe Höfe, Berlin
© Tacita Dean
Source: lacma.org