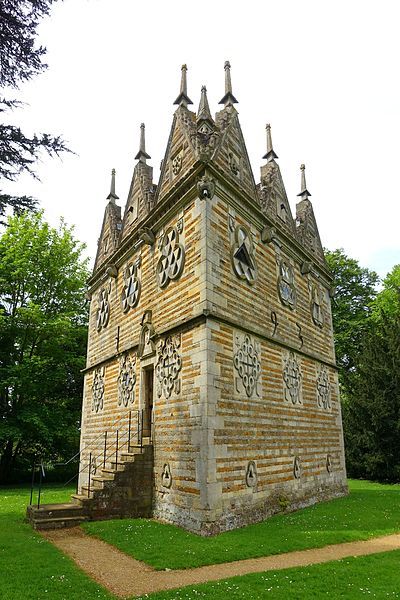 Found in the village of Rushton in Northhamptonshire, England, is the Rushton Triangular Lodge. This building was constructed between 1593 and 1597, and was designed by Sir Thomas Tresham, as a way of expressing his faith.
The number three, symbolizing the Holy Trinity, is apparent everywhere, from the triangular shape to the use of the trefoil window designs, to the number of floors, the various dimensions and symbolic letters, dates, and numbers which are all multiples of three.
Thomas Tresham, grand prior of the order of St. John in England, was the eldest son of John Tresham of Rushton. The family owned large estates in Rushton and Lyveden which he inherited from his grandfather at the age of fifteen, establishing him as a member of the Catholic elite. He served as sheriff of Northamptonshire in 1573 and was knighted at the Queen's Royal Progress at Kenilworth in 1575. Tresham's connection with Jesuits and his recusancy made [him] a threat to Protestants and he was frequently imprisoned and fined for his religious affiliation. It was during his prolonged captivity that Sir Thomas formulated the idea of making a covert declaration of his faith.
On his release in 1593, Tresham began designing the triangular lodge as something of a shrine dedicated to his long suffering.
Learn more about the building over at Amusing Planet.
(Image Credit: Daderot/ Wikimedia Commons)
Source: neatorama