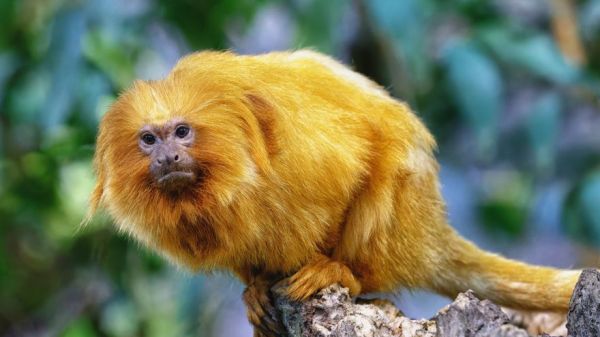 Back in the 1970s, there were as few as 200 golden lion tamarins in the wild. That's when efforts began to save the South American primate. Though still an endangered species, the population of the tamarin species in Brazil and other parts of the Atlantic Forest has rebounded to around 4,800 in a recent survey. The Golden Lion Tamarin Association in Brazil tells us that three factors are helping the tamarins.
About three dozen farmers are participating in a program to increase the tamarins' habitat area. One of those farmers, Ayrton Violento, has converted part of his farm to native fruit trees and he also has a nursery to provide trees to others in the reforestation program. Violento happily reported seeing more tamarin families living on his farm in recent years.
Between 2014 and 2019, the tamarin population dropped by more than a thousand individuals due to a yellow fever outbreak. Hundreds of tamarins were inocculated with a vaccine derived from the human yellow fever vaccine, and the outbreak subsided.
Also, the illegal pet trade was rampant in the 1960s, but strict enforcement against poachers has alleviated the problem, at least for tamarins. Read the details of this good news about the golden lion tamarinds of Brazil at ABC. -via Metafilter
(Image credit: Pierre5018)
Source: neatorama