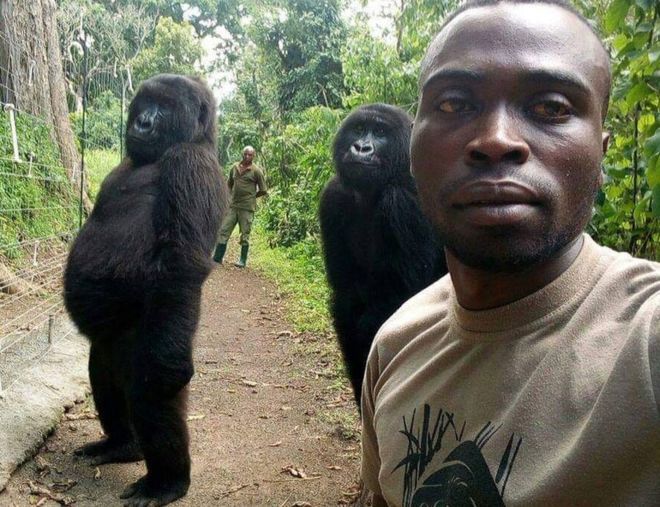 Now THIS is a selfie.
These gorillas, standing on two feet and seemingly imitating humans, pose for a selfie with the rangers who rescued them as kids.
The park's deputy director told BBC Newsday that they had learned to imitate their carers, who have looked after them since they were found.
The gorillas, he added, think of the rangers as their parents.
Innocent Mburanumwe, deputy director of Virunga, told the BBC that that the gorillas' mothers were both killed in July 2007.
The gorillas were just two and four months old at the time.
They were found shortly afterwards and taken to Senkwekwe Sanctuary in Virunga, where they still live up to this day.
Because they've grown up with the rangers who rescued them, Mr Mburanumwe added, "they are imitating the humans" – and standing on two legs is their way of "learning to be human beings".
"I was very surprised to see it… so it's very funny. It's very curious to see how a gorilla can imitate a human and stand up."
Fun as it may seem, the life of a ranger is not always fun. Sometimes a ranger's life is greeted by death.
(Image Credit: Ranger Mathieu Shamavu/ BBC)
Source: neatorama