The Other Art Fair is thrilled to announce it's newest global Guest Artist for the Online Studios — Brandon Boyd!
Brandon Boyd's work as a singer, songwriter, both as a solo artist and with his platinum-selling rock band, Incubus, is well documented and universally acclaimed. His other life's work — that of a painter — has been garnering increasing attention and devoted audiences of its own for over a decade.

(Photo Credit: KEILEN PHOTOGRAPHY)
Brandon has published three books of his visual art: White Fluffy Clouds (2003), From the Murks of the Sultry Abyss (2007), and So the Echo (2013). Among dozens of book signings, group and solo exhibitions, special collaborative projects and philanthropic arts, Brandon has showcased a mixture of both expressive and abstract paintings, prints, and drawings in international cities including Amsterdam, Cape Town, London, Paris, Rome, Zurich and across the U.S. His most recent large scale exhibition, Impossible Knots debuted at the renowned Samuel Lynne Galleries in Dallas this year.
In 2019, Incubus commemorated twenty years of their seminal album Make Yourself and the band toured extensively for the second half of the year playing to sold out crowds. Simultaneously, Incubus celebrated combined sales of more than 23 million albums and over 1 billion streams. This April their EP, Trust Fall (Side B), was released to wide acclaim and a rescheduled tour will be announced.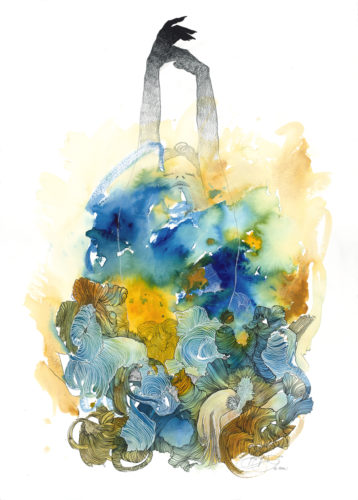 As Above by Brandon Boyd, 2020
Boyd was a natural artist from childhood, and in fact his dream to attend art school after college once sat within his grasp, scholarships and all. He ended up signing a record deal instead. Through the next 25 whirlwind years, he never stopped painting and drawing, coming to view the creative processes of musicianship and visual artistry as both complementary and intertwined. "The music is intellectual," Boyd says. "It tickles and frustrates me; it's untouchable and fascinating. The art is intuitive, more like just breathing. It's just a part of me."
Get your hands on limited edition prints and originals by Brandon Boyd at The Other Art Fair Online Studios.
Source: saatchiart.com