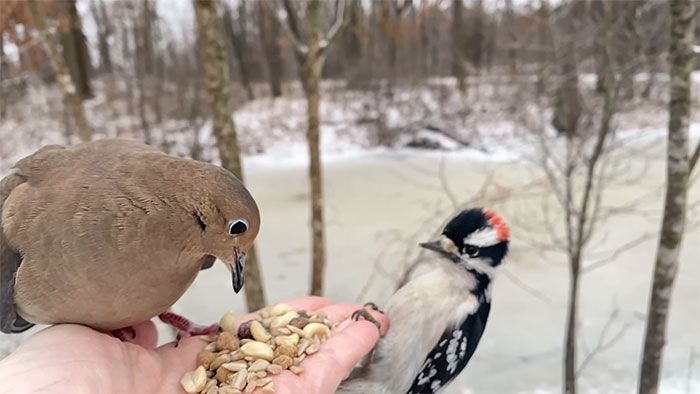 Bird photographer Jocelyn Anderson lays out a hand filled with snacks in front of the camera. A few moments later, a downy woodpecker, attracted by the food in Anderson's hand, flies onto it. Suddenly, the woodpecker looks to its right, and then moves its feet backward, as a mourning dove flies into Anderson's hand as well. Unsure, the woodpecker then stares at the dove as the latter eats the snacks. Eventually, the woodpecker then eats some before leaving.
This is just one of the many videos on Anderson's YouTube channel.
Jocelyn gave an interview to Bored Panda explaining all of the details and the idea: "I started photographing birds about 5 years ago. I was taking walks on local nature trails and thought it would be fun to take some photos during the walks. I remember seeing a wee bouncing ball of a bird, which I later learned was a kinglet. I immediately became enchanted with this tiny bird and the challenge of photographing him."
"One of the wonderful things about bird photography is that it creates a strong connection between the photographer and nature; the more you learn about how to listen and watch, the more nature will share with you. The camera also captures images that are too fast or too far for the human eye, giving a look into a world not normally seen. I am constantly inspired by the beauty, the intelligence, and the antics of these wonderful creatures."
Very wholesome.
(Image Credit: Jocelyn Anderson Photography/ Bored Panda)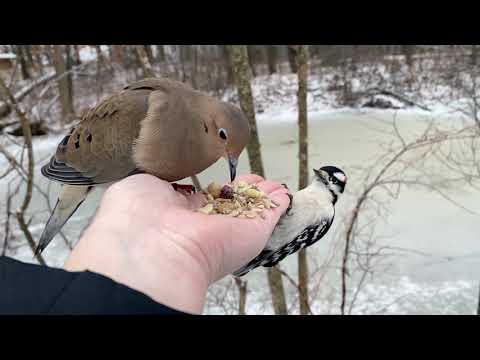 Source: neatorama