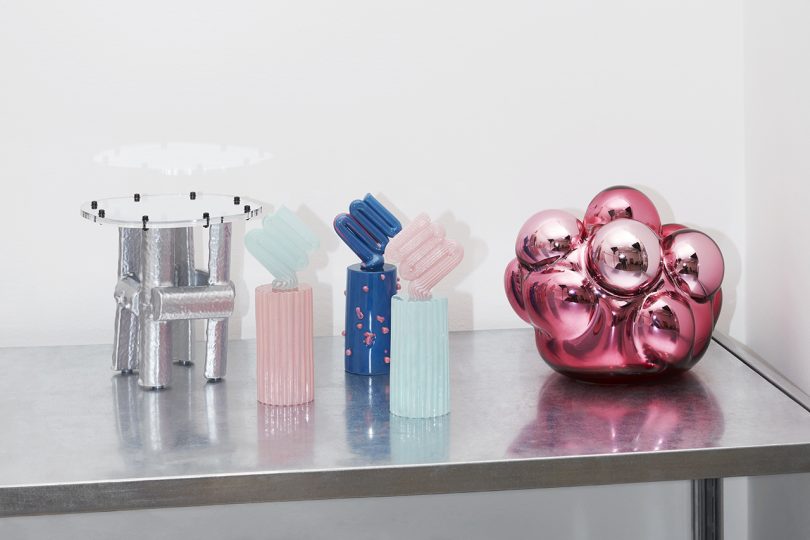 Today's an exciting one, as Hem has announced the launch of their creative hothouse, Hem X. The platform was created to focus on limited edition art objects of 100 pieces or less with a focus on creating unique, creative collaborations. The format allows the brand to work directly with chosen curators, artists, and designers who are as motivated by curiosity and discovery as they are.
Hem first began experimenting with limited edition design objects in 2019. London-based gallery and magazine Modern Design Review worked with the brand to create and commission pieces by designers Martino Gamper, Bertjan Pot, and Jenny Nordberg, among others. It's now been conceptualized into Hem X, a more robust version of the original idea. Each ongoing collection will be developed alongside curators, beginning with Arranging Things.
Founder and CEO of Hem, Petrus Palmér, wanted to create something that allowed the brand a higher level of exploration, as opposed to the traditional product development process where manufacturing and supply chain methods can be constraining. "There is a strong yearning for the authentic and tactile, perhaps as a contrast to the screens we have in front of us every day! We like to think of the mass produced and the artisanal as complementary, and we love the idea of having both avenues under the Hem umbrella," Palmér shared.
As mentioned, the first participating curator is Arranging Things. Cofounded by Lisa Milberg and Leo Forssell, the interior decorating firm's practice includes office spaces, public spaces, residential, and even set design projects. There's also a shop that's open once a week as well as the occasional gallery space. In their collaboration with Hem X, Arranging Things' quirky take on interior are turned into objects by three up-and-coming Swedish artists and makers.
"We jumped at the chance to work on Hem X, because we knew it'd be both fun and a great opportunity to work with some of our favorite designers on an exclusive series of objects. In selecting our makers, we look for nice people with great skills who have a forward-thinking and personal expression which is shaped by curiosity, attention to detail, and is slightly weird," said Milberg and Forssell.
Glass sculptor Rasmus Nossbring has created 'Monument,' making 15 pieces (five of each colorway) available. When the glass is at its hottest it's pressed into an optic mold, then extracted, folded, cut, and perfectly polished. His traditional training gives him the ability to play at the crossover point of art, design, and craft. Oftentimes that includes a twist, playful colors, figurative characters, and architectonic influences.
Lisa Reiser produces small-scale glass, ceramics, and metal objects at Studio Reiser in Småland. For Hem X she translated her design process of daydreaming into 'Moln,' the Swedish word for cloud. The hot pink mercury glass is FUN. Reiser created her own mold with expert glassblower Peter Kuchinke. She then made 35 handblown clouds, filling each with a layer of liquid silver for a mirrored finish.
Designer Jonatan Nilsson's 'Power Plinth' is made from resin-coated styrofoam before being finished with a laser cut mirrored acrylic top. Each of the 35 pieces can function as a pedestal for personal treasures or be shown as its own work of art. Nilsson focuses on innovation with an experimental approach in the hopes of making complex, expressive objects that question how things are supposed to look or function.
To learn more about Hem X and to purchase the limited edition objects, visit hem.com/hemx.
Source: design-milk