Hem X, a platform for creative collaborations, works with curators, artists, and designers to hand-make signed, limited editions of 100 pieces or less. The latest collection – PROPS – is curated by Modern Design Review and challenged six emerging creatives with the task of using a stool as a blank canvas. A brief laid out the criteria that needed to be met, including size, usability, and their own brand of personal expression.
Petrus Palmer, Founder and CEO of Hem and Hem X said, "Since its launch, Hem X has established itself as an emporium for the aesthete, empowering the next generation of designers with Hem's own industry expertise and allowing for people to invest in contemporary collectibles. PROPS represents our foray into producing more comprehensive collections of these future heirlooms."
The final PROPS stool designs are unique, individually incorporating the key characteristics of each designer's practice into their piece. What's revealed are processes, materials, and expressions translated into a single, everyday object. Because PROPS is a series of limited collectibles, the result is six editions, each with five signed and numbered stools available exclusively through Hem X.
"The launch of PROPS comes four years after we produced the first limited edition design for Hem," said Laura Houseley, Founder and Editorial Director of Modern Design Review and MDR Gallery. "The ambition now is just as it was then: to bring the most exciting, most avant-garde, and most covetable of studio-produced collectible design into the heart of Hem's world."
Regen Stool by Wendy Andreu
Andreu's unique 'Regen' technique winds cotton rope around a bespoke frame before sealing it with silicones. Tactile and soft, but surprisingly structural, the Regen Stool turns textile into three-dimensional shape.
Mirror Block Stool by Seongil Choi
Choi works with industrial processes, uncompromising forms, and a tough material palette. The Mirror Block Stool distills it into the most basic shapes and volume in the form of a pixelated design. The chunky object may appear sliced from solid metal, but is actually made using sheet steel that's cut, welded, and then mirror polished.
Bo Stool by Destroyers/Builders
Capturing her love of tulip wood, Linde Frey of Destroyers/Builders pays homage to architect and designer Lina Bo Bardi. Bo Stool's form is inspired by decorative flamed tulip wood that's been cut into blocks and assembled like primitive structures.
Mass Stool by Odd Matter
The Mass Stool embodies Odd Matter's (Els Woldhek and Georgi Manassiev) practice rooted in the environment that we inhabit. The stool is made of a cork and plaster mix original to the studio's work, and molded for the first time to create objects that are textural, contained, and colorful.
Slurp Stool by Henrik Ødegaard
Ødegaard's playful approach to creating forms is demonstrated in his Slurp Stool. The wood base creates a perforation-as-pattern effect, then paint is applied in thick, glossy layers for final forms that feel soft and cartoon-like.
Surfaced Stool by Sho Ota
Somewhat resembling a pixelated image, the Surface Stool is constructed from pieces of off-cut ash to create a profile and object with plenty of depth and surface interest. Each stool has been painstakingly pieced together, making each unique.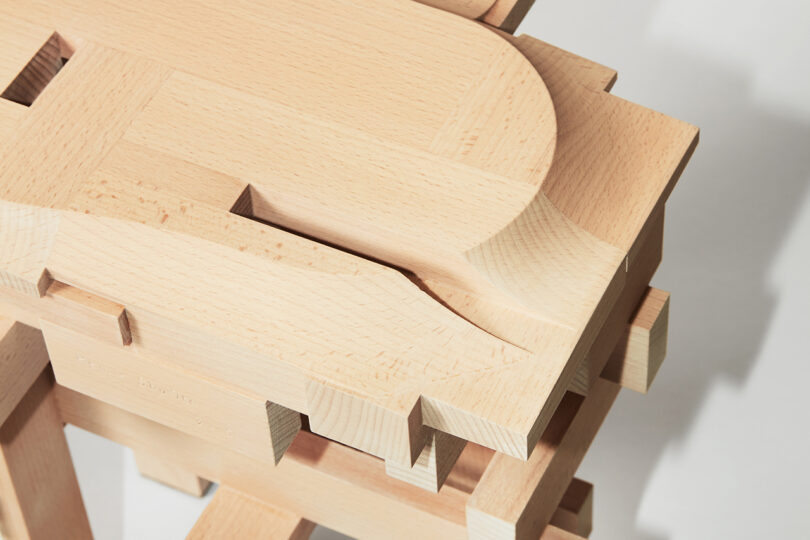 To learn more about Hem X and PROPS, visit hem.com.
Source: design-milk