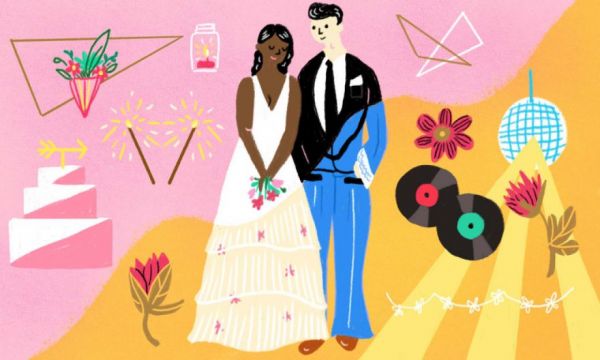 Before planning her own wedding, Meg Keene thought about the nice, classy wedding her parents had in 1974. They had the ceremony at a cathedral in San Francisco with 300 guests, followed by a reception at a posh club with a five-tier cake. How much would it cost to recreate that wedding? Keene's parents paid around $2,000, which would be almost $10,000 today due to inflation. Could Keene do a nice wedding like that for $10,000? The answer is no.
Total 1974 cost: $2,095
What it should cost in 2017 dollars: $10,068
What it actually costs in 2017: $47,286
Increase: 370%

You read that right. That is a 370% increase in what it would cost to throw my parents' wedding. Why? It's kind of a chicken-and-egg thing. Sometime between 1974 and today, people realized that weddings weren't necessarily a side business. And now there's a whole industry around weddings. An industry that, as Rebecca Mead writes in One Perfect Day: The Selling of the American Wedding, has been "assiduous in working to establish the trappings of the lavish formal wedding as if they were compulsory rather than optional." And wedding vendors aren't out to get you; most are small business owners who are charging for the increase in time, attention, and ~perfection~ that couples and their parents have come to expect.
Granted, prices vary by area. Those in small towns can do it less expensively, of not as poshly. Keene also breaks down the cost of each component of the wedding: flowers, food, photography, wedding gown, cake, etc. Read about her project at Buzzfeed.
(Image credit: Jenny Chang/BuzzFeed)
Source: neatorama