It's official! We have the 2022 Scripps National #SpellingBee Finalists. Their journey took determination, focus, and lots of hard work.#Speller1#Speller65#Speller76#Speller87#Speller104#Speller178#Speller189#Speller197#Speller205#Speller206#Speller231#Speller234pic.twitter.com/n4B5MVakLT

— Scripps National Spelling Bee (@ScrippsBee) June 1, 2022
Yesterday wrapped up the 2002 Scripps National Spelling Bee. After preliminary rounds, 12 finalists faced each other in the final round last night. Most competitors were eliminated quickly, but two held on for several rounds. Twelve-year-old Vikram Raju and 14-year-old Harini Logan went head-to-head, but could not eliminate each other. Every time one would miss a word, the other would also. After several rounds, it was decided to use a spell-off to decide the winner for the first time in the competition's 94-year history. Raju and Logan were to each spell as many words as possible in 90 seconds. Watch them quickly spell a slew of words that I've never even heard of.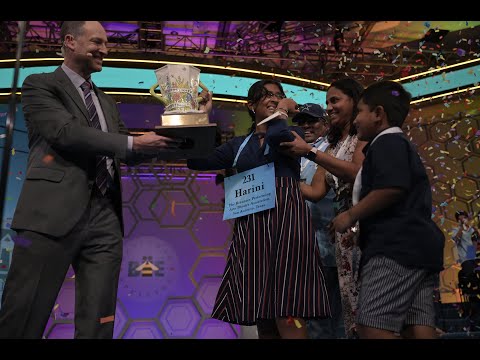 After both made their best attempt, it was announced that 8th-grader Harini Logan had spelled 21 words correctly in 90 seconds, and she was crowned the winner of the title and $50,000. Raju is eligible to return to competition next year, and vowed that he will be there. -via Digg
Source: neatorama