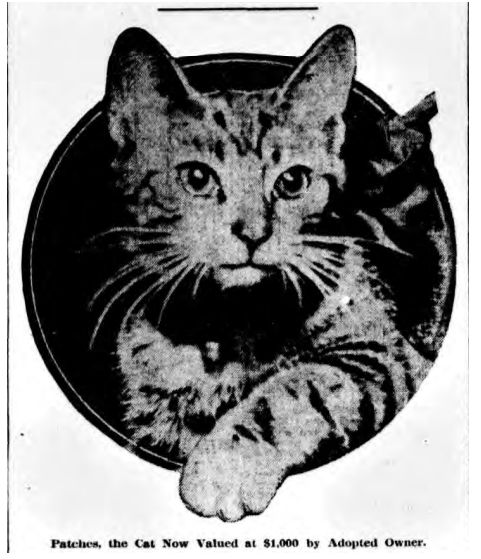 For Christmas, The Hatching Cat has strung together similar stories in several animals posts with holiday themes. One is a list of cats who saved lives in New York around the holiday season between the years of 1904 and 1932. The list has six stories about six cats who saved the lives of a dozen people, plus four kittens. One story involves Patches, pictured here. Patches hung around a building and was owned by no one, until that fateful day during the Christmas season of 1912, when Patches jumped up on the shoulders of Daniel De Lena, the building resident who was the cat's worst enemy.
According to the New York Press, one morning Patches jumped on Daniel's shoulder and then kept running to and from a rear window while excitedly meowing. At first, Daniel kicked at Patches and tried to shoo the cat away.

But finally, the cat's persistency paid off. When Daniel got up to look out the first-floor window, he saw that the rear of the building was in flames. He ran through the four-story brick building, waking several people who lived and worked there.
De Lena afterward became Patches' best friend, and even adopted the hero cat. Read the rest of Patches' story and those of five other hero cats at The Hatching Cat. -via Strange Company
See also: Christmas stories of hero dogs and hero horses.
Source: neatorama