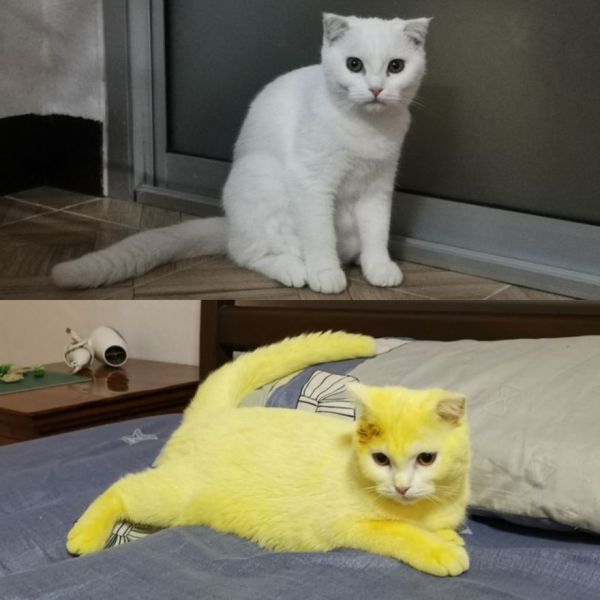 Thammapa Supamas lives in Thailand and has a white cat named Ka-Pwong. Or, to be more precise, she used to be white. The poor cat suffered from ringworm.
Supamas was worried about her cat's infection so she asked her mother for advice. She suggested applying turmeric—an Indian spice and medicinal herb used to treat infections. "My cat Ka-Pwong had ringworm, we did everything to cure it, but nothing worked. That was when my mother had the idea of using turmeric. At first, she painted it on the ringworm but as there was a lot left, she decided to paint the whole body to prevent future mycoses," said Supamas to Bored Panda.
As anyone who cooks with turmeric knows, it can stain your skin yellow. The spice turned the entire cat bright yellow, which did not wash out. The good news is that the ringworm has cleared up! And Ka-Pwong now has her own Facebook page, in case you want to follow along and find out how quickly the cat replaces her dyed yellow hair with new white fur. Read the whole story with lots of pictures, including some with Photoshopped Pickachu features, at Bored Panda.
(Image credit: ตุ้มเม้งแมวแพนด้า&คาพ้วงแมวเชื้อรา)
Source: neatorama