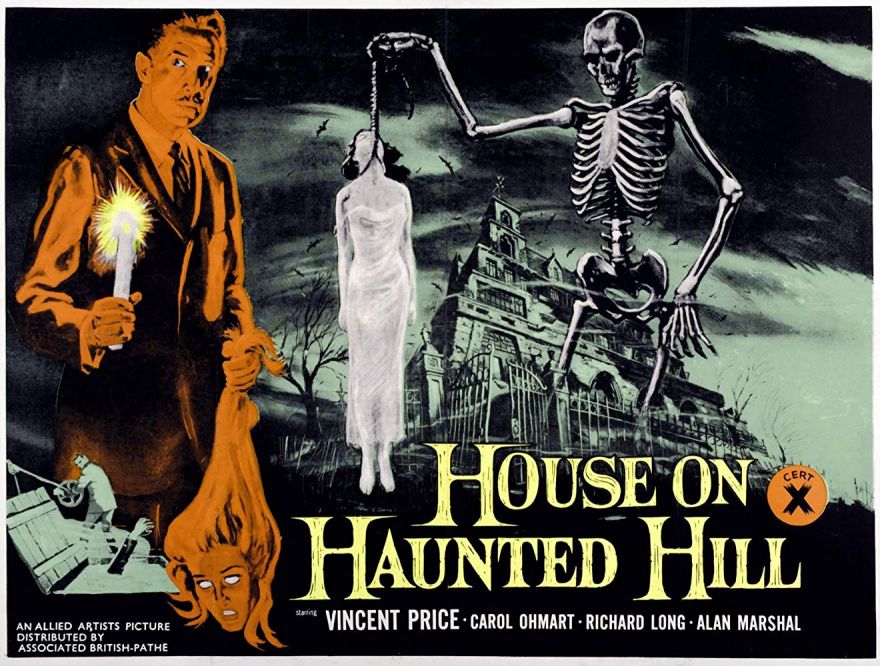 In the 1993 film Matinee, actor John Goodman portrays a small-time film promoter that releases a kitschy horror film during the Cuban Missile Crisis. Those who saw the film probably didn't realize that Goodman's character was based on an actual film producer, this being William Castle. From the IMDb:
Castle often appeared at the beginning of his own films, "warning" movie-goers about the terrors they were about to experience. To ensure that audience reaction was maximized, Castle frequently resorted to "interactive gimmicks" – like theatre seats wired to slightly shock patrons during scary scenes (The Tingler) a 3-D skeleton that floated from the screen on wires (House on Haunted Hill) and cards handed out by ushers purportedly letting movie-goers determine how the movie would end (Mr. Sardonicus). Hokey though they were, these promotional stunts worked – Castle's films rarely failed to turn a profit.
Castle was actually a shrewd businessman who simply realized what it was the public really wanted and gave it to them. His films were the perfect drive-in fare for the time; girls on dates would become scared or nervous and ask their dates to hold them. You don't think he knew what he was doing? People have always liked being scared and Castle did so without use of graphic violence or, usually, color. Though he specialized in B-Movie horror films, he was talented enough that he was tapped to produce the 1968 mainstream horror film Rosemary's Baby.
His 1959 offering, House on Haunted Hill, is a perfect example of his films. Starring Vincent Price, it was well-received and made a good profit, so much so that Alfred Hitchcock couldn't help but notice the public's taste for terror and was inspired to make Psycho the next year. Again from the IMDb:
Eccentric millionaire Fredrick Loren and his 4th wife, Annabelle, have invited 5 people to the House on Haunted Hill for a "Haunted House" party. Whoever will stay in the house for one night will earn ten thousand dollars each. As the night progresses, all the guests are trapped inside the house with ghosts, murderers, and other terrors. Of the many William Castle-directed shockers of the '50's and '60's, this one is probably the most traditional in terms of being a "ghost story". The set up is irresistible; five unrelated people are chosen to spend the night in what is purported to be a haunted house, in which several murders have taken place in the past. Price is wonderful, as always, as the sardonic, mysterious host. His wife is played by a former beauty queen (Ohmart) who is attractive, if a bit frosty. They have some interesting repartee which reveals their mistrust and hatred for one another. Price's character gives the guests loaded guns as party favors! It doesn't take long for the unusual occurrences and minor creeps to begin. The film is hokey, campy and illogical…full of contrivances and inanities. Yet, it is undeniably entertaining. All of the hallmarks of an old-fashioned scary movie are in place….the eerie music, the undependable lights, swinging doors, secret passages and without question the most hilarious, terrifyingly ugly housekeeper ever put on film!
The film is available on YouTube and is embedded below. I used to watch this as often as possible in the 1960's and any day that it was shown was a good day. See for yourself!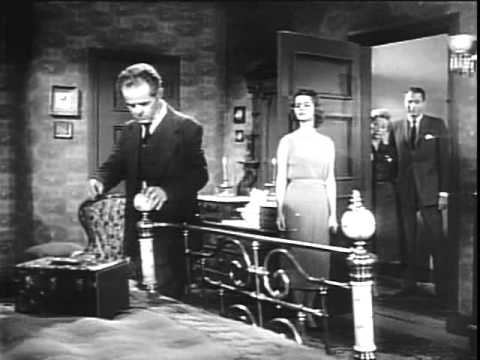 Source: neatorama