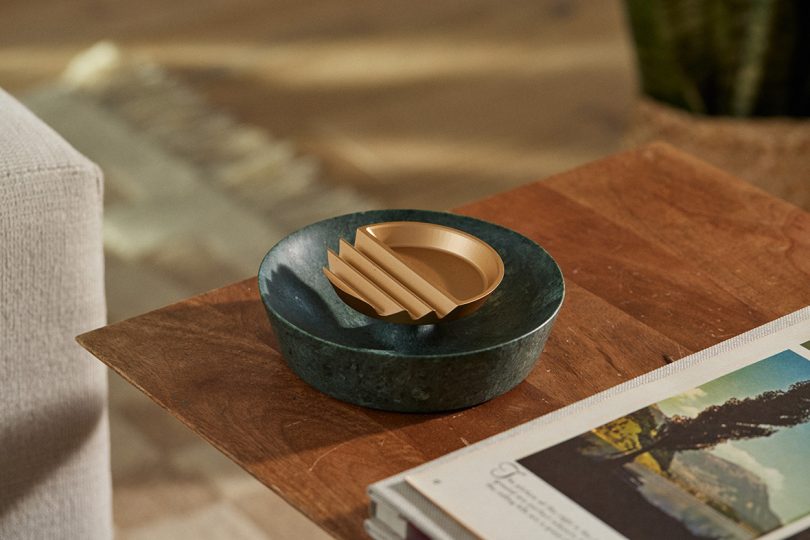 If we ever run into Seth Rogan or his Houseplant cohort Evan Goldberg, we'll have to thank them for their efforts in elevating the cannabis and smoking accessories category with a respectable degree of design that speaks to our mid-century appreciative hearts. Houseplant's catalog of design x cannabis products represents less of a pothead mentality and more toward an aesthetic of a pottery-head enthusiast. Just look at Rogan's last Ash Tray set, and it's easy to imagine the 3-piece ceramic set gracing the table top of a Michelin star omakase meal rather than something designed to catch the embers of a dank ride on the far side.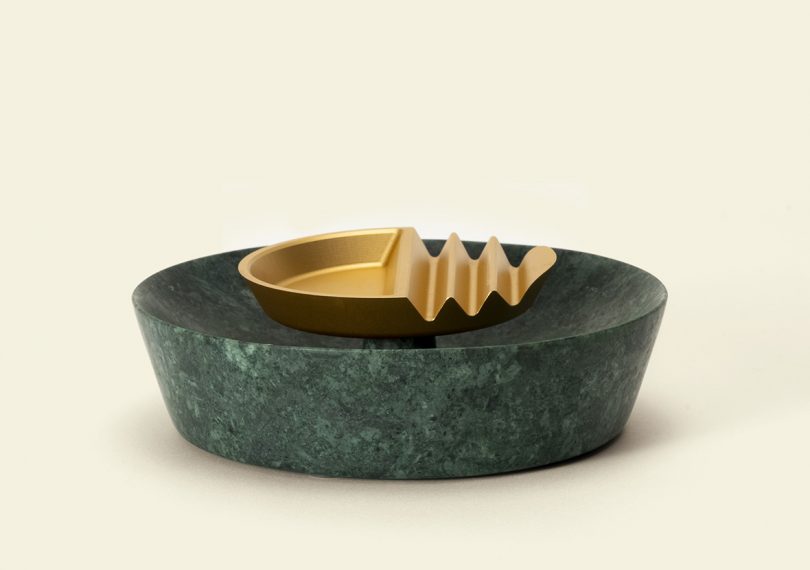 The brand's latest smoking accessory, the Ridge Ashtray, is no less sophisticated and captivating than its ceramic predecessor – a decorative smoking tool made of deep green marble embellished by a golden folded aluminum insert. It's comfortably retro and modern, rather than simply retro-modern, and also obviously functional in its form.
The Ridge Ashtray continues to represent the brand's efforts to bring sophisticated smoking accessories unencumbered by the tired stereotypical tropes associated with the stoner lifestyle – consider it adulting, stoner style. Just look at the brand's other designs like their Weight Lamp Ashtray, and you'll notice Rogan and Goldberg operate on a wavelength where any bit of refinement comes pre-rolled with an accompaniment of dad humor-tinged puns to keep the brand safely on the side of not-too-serious ("ridged for your pleasure" and "the lamp you've been weighting for").
The Houseplant Ridge Ashtray is available today for $150. But if previous drops inform anything, this latest design will likely sell out almost immediately.
Source: design-milk