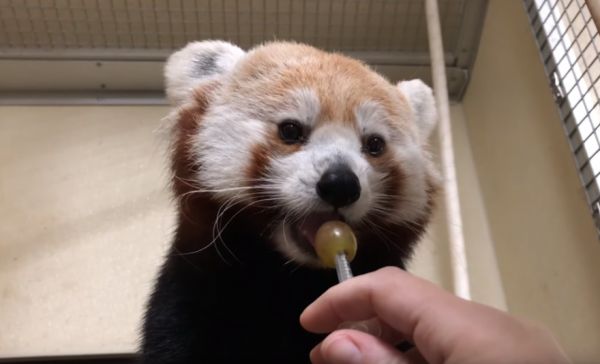 If you've ever had to give a pill to a cat, you know that it can involve lots of time, possible injury (to you, not the cat), and may land you on the cat's enemies list. Now imagine giving medication to a wide variety of wild animals, some of which have the ability to kill you.  
The Smithsonian's National Zoo and Conservation Biology Institute is home to hundreds of animals comprising a wide variety of taxa, from bugs to bison, salamanders to siamangs, prairie dogs to pandas, and everything in between. Regardless, all of our animals receive veterinary care, and often that means an animal needs to take medicine.

Our Department of Wildlife Health Sciences includes veterinarians, technicians, pathologists and nutritionists that ensure every single animal receives the highest level of care. They examine the animals in our care and prescribe the best course of action for any ailment. An animal may have a new problem, like a wound that needs attention, or a chronic problem, like arthritis. Medication can take several forms — pills, capsules, liquid suspensions (medicine mixed into a liquid) or even injections. Ensuring that an animal receives its full dose of medicine, as often as necessary, takes a bit of creativity.
Read about the National Zoo's animals and see videos on giving medication to a gecko, a red panda, an orangutan, sea lions, monkeys, onagers, and avocets at Smithsonian. Bonus: find out what onagers and avocets are.
Source: neatorama