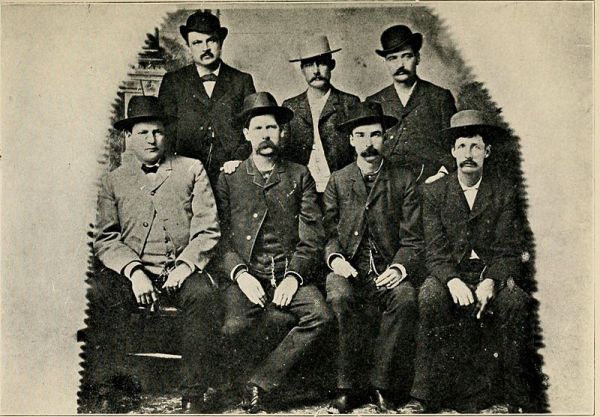 The Dodge City Peace Commission. Wyatt Earp is sitting, second from left. Bat Masterson is standing on the right.
Dodge City has long been a metaphor of the lawless Old West. You'll not be surprised to find that it is a rather normal Kansas town, and has been for most of its existence. Dodge City was founded in 1872 along the new railroad. The town's reputation was made quickly, and then stuck.
Newspapers in the 1870s crafted Dodge City's reputation as a major theater of frontier disorder by centering attention on the town's single year of living dangerously, which lasted from July 1872 to July 1873. As an unorganized village, Dodge then lacked judicial and law-enforcement structures. A documented 18 men died from gunshot wounds, and news­papers identified nearly half again that number as wounded.

But the newspapers didn't merely report that news: They interwove it with myths and metaphors of the West that had emerged in the mid-century writings of Western travelers such as Frederick Law Olmsted, Albert D. Richardson, Horace Greeley, and Mark Twain, and in the "genteel" Western fiction of Bret Harte and its working-class counterpart, the popular yellow-back novels featuring cowboys, ­Indians, and outlaws.
In other words, Dodge City was the victim of fake news. That resulted in a struggle between residents who wanted to promote Dodge City as an upstanding place to do business, and those who wanted to capitalize on the publicity, however lurid. Learn more of the history of the real Dodge City at the Saturday Evening Post. -via Damn Interesting

Source: neatorama