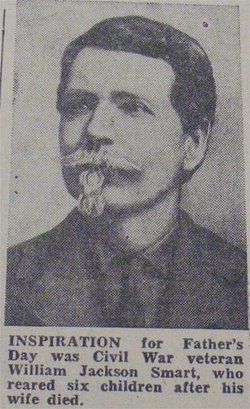 Mothers Day has been celebrated officially since 1914 in the US, but Fathers Day took much longer to become a thing. It wasn't an official US holiday until 1972! One of the reasons it took that long for Fathers Day to achieve anything near the status of Mothers day is because men thought the entire idea seemed effeminate. They didn't need flowers and cards- especially when they had to pay for them! But eventually retailers found ways to make Fathers day something worth promoting.
The real push to get Fathers Day off the ground came from Sonora Smart Dodd, who knew that fathers were important and should have a holiday of their own. She wanted to honor her own father, William Jackson Smart, who raised six children alone after his wife died. Dodd's campaign took off in Spokane, Washington, in 1910, but took decades to achieve the status of a real holiday. Read how all that came about at Almanac. -Thanks, WTM!
Reminder: Fathers Day is this Sunday, June 19.
(Image source: Find-a-Grave)
Source: neatorama