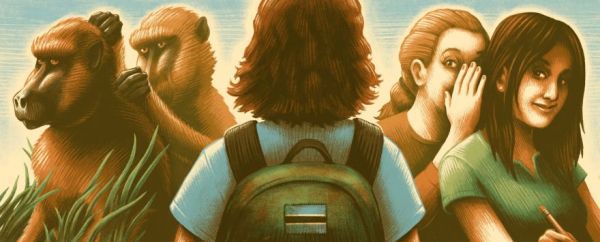 Keena Roberts had gone to school occasionally, but had spent most of her time with her parents researching the social life of baboons in Botswana. Then suddenly, when she was 14, she went to high school in Philadelphia. Does that remind you of a certain 2004 movie?
"So who do you like, Keena?" The girl asking me took a sip of her Diet Snapple and quirked up one side of her mouth. I had no idea what her name actually was, but I had been calling her "Crushy" in my head because that's all she ever talked about — who had crushes on whom, and who knew about them. The other girls at the lunch table stared at me, and I clenched and unclenched my hands under the table, trying to think of the right thing to say. I looked past Crushy to the "cool" part of the cafeteria, where a bunch of senior girls from the varsity lacrosse team were eating. Truth is, I did have a crush on one of them, a paralyzing crush that made me almost pass out when she gave me a high five after practice one day. But I knew enough not to talk about it.

"Uh … Alex is nice?" I picked a boy from our class with floppy hair who wasn't (A) an asshole or (B) an idiot. Seemed like a good enough choice for this conversation, right? Crushy burst out laughing.

"You can't like Alex!" she shouted.

"Shut up," I hissed, as heads at other tables turned toward us. "I didn't even say that I did! Just that he was nice."

"He's way too cool for you," Crushy went on. "And too hot. Only Meghan or Sam can like him. They're both as cool and hot as he is."
The difference between Roberts' story and Mean Girls is how Roberts used her knowledge of social hierarchies in baboon society to negotiate the world of an American high school. She wrote a book about her experience called Wild Life. Read -or listen to- an excerpt that lays out the scenario of her high school days at Narratively.
(Image credit: Brian Britigan)
Source: neatorama