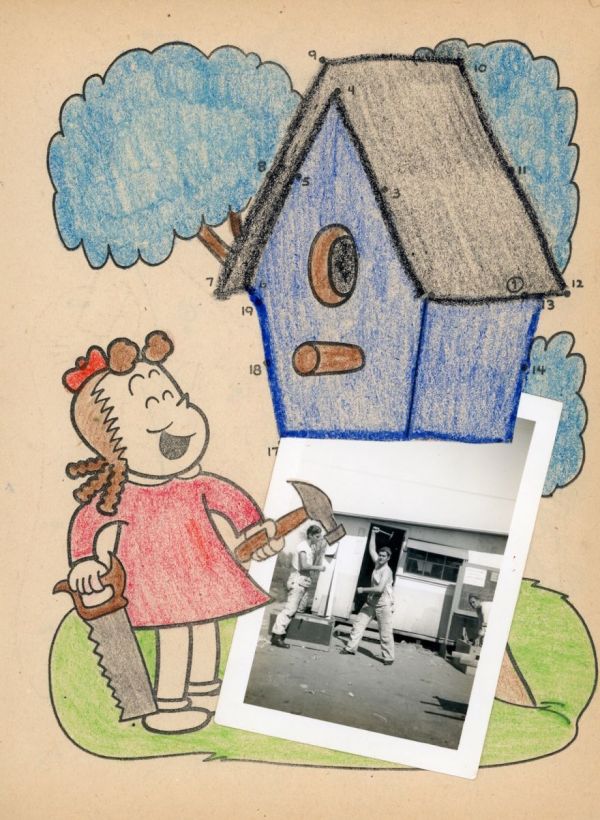 Photography can be documentary- recording the world as it is, or it can be an art medium. These approaches are not mutually exclusive, as many great photographers combine the two. Arthur Tress is known for both his artful documentary photos and his photographic art. But between 2010 and 2013, he had fun with a new hobby, or a game, as he calls is, combining art and photography in a different way. Tress took children's coloring books from flea markets and thrift shops and combined them with found photos he's collected over the years to make collages that are simple and sweet, but can be read to have deeper meaning.
"It would be an evening's recreation to match up coloring-book pages with photographs," Tress says of the photocollages he made during those years. "It became sort of a game, almost like Old Maid."

The game was played as follows: "I'd put a coloring-book page on a table and then pull a photograph from one of my little white envelopes," he says of the everyday containers he uses to organize his collection of hundreds of found photographs into categories such as children playing games, animals, buildings with geometric shapes, and World War I. "A lot of the pairings ended up being by chance, depending on what I happened to pull," he says, "but I did have the choice of doing the collages in a surrealistic way, where there would be dissonance between the found photos and the coloring-book subjects, or in a way where the photos and subjects would be similar. I decided to make the pairings congruous."
Read an interview with Tress and a deep dive into some of these unique photocollages at Collectors Weekly.
(Image credit: Arthur Tress Archive LLC)
Source: neatorama