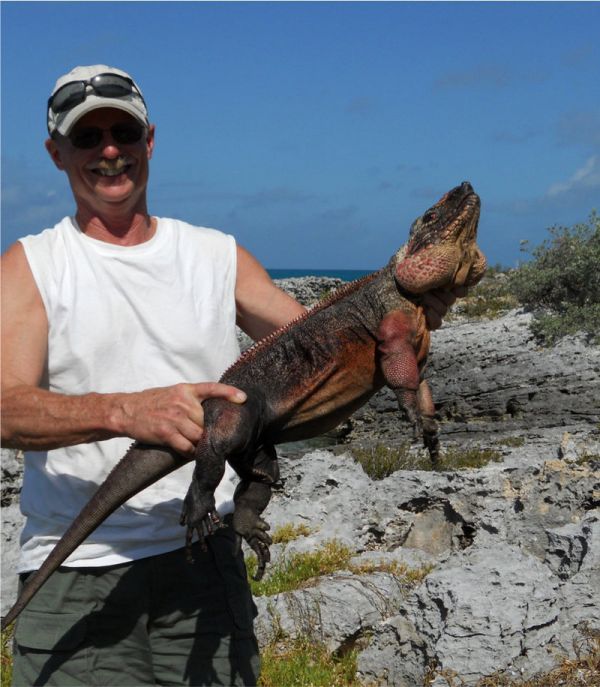 Several islands in the Bahamas are home to the same species of iguana, the endangered Allen Cays rock iguana. The species only came to Allen Cay in the 1990s, but for some reason, the iguanas on Allen Cay are enormous, compared to their cousins on U Cay, Leaf Cay, and the other islands they inhabit. Biology professor John Iverson wanted to find out why they became so big in a relatively short span of time. It had to be something special about the environment of Allen Cay.
He puzzled over how this tiny island could have turned its resident iguanas into Goliaths. In certain ways, it's just like the other islands the subspecies inhabits. All are essentially predator-free (save for herons that will occasionally snatch a baby iguana). And all of the islands grow similar shrubs, grasses, and flowers for the plant-loving reptiles to eat.

At the same time, Allen Cay boasts far fewer white sand beaches than its neighbors. Instead, most of its surface is heavily pockmarked due to the honeycomb limestone that covers it. "There are holes everywhere. Some folks call it razor rock because the holes are like razors," says Iverson. The cavities make the island treacherous for human visitors, but ideal for nesting seabirds. That's why Allen Cay attracts a dense colony of brown and white Audubon's shearwaters. Until recently, the island was also overrun with house mice that had been introduced by humans.

Iverson began to suspect that these so-called vegetarian iguanas might be supplementing their diets with seabirds and mice. The scenario seemed to add up: If you take animals that eat plant matter and give them animal protein, they'll grow faster, he reasoned.
The idea made sense, but where was the evidence? Read about the experiment that solved the puzzle, and the unintended consequences of the hypothesis itself at Atlas Obscura. 
(Image credit: Kristen Richardson)
Source: neatorama