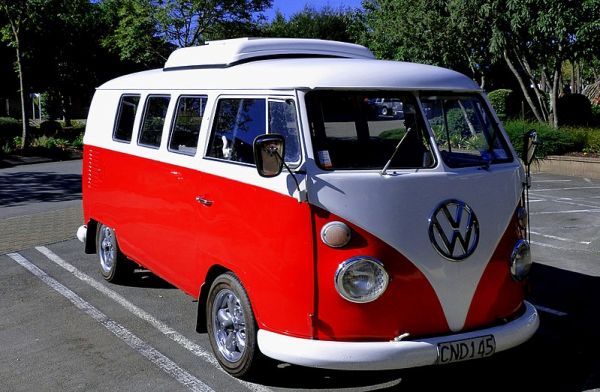 Seventy years ago, on March 8, 1950, Volkswagen started producing the Type 2, which came to be the first van. We called it the microbus. Like the Type 1 (the Beetle), it slowly made its way across the Atlantic and began to compete with both the family station wagon and work trucks. But it really caught on with younger people.  
As the Microbus became more accepted in America, it began to take on a cult status with fringe groups. Its boxy appearance—so unlike anything the major auto manufacturers in Detroit were producing—became a symbol for counterculture types, who wanted to stand out from the rest of crowd. Some owners painted peace signs on the Microbus, earning it the nickname "hippie bus."

"It became popular with people who were rejecting mainstream American culture," White says. "It was their way of saying, 'We don't need your big V8 cars.'"

The VW Microbus was also a favorite of marginalized members of society, who could use the versatile vehicle to transport people to rallies, polling stations, protests and more during the political and cultural upheaval that laced the 1960s.
The microbus also became a symbol for the road trip. While the underpowered engine could fail, the multiple people inside knew they were in this together. Read about the Volkswagen microbus and its effect on America at Smithsonian.
(Image credit: Bernard Spragg)
Source: neatorama