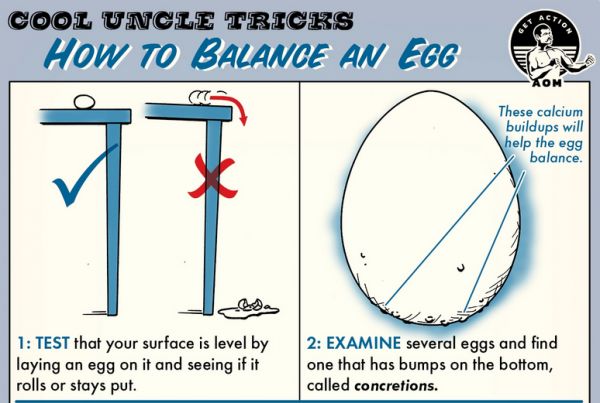 The autumnal equinox falls on September 23 this year, which is the traditional time to balance an egg on its end, so you may as well learn to do it properly. It's not an important tradition, like changing the batteries in your smoke detector, and is in fact rooted in folklore.  
Legend has it that balancing an egg on its end was so difficult that you effectively needed planetary alignment to make it happen. Thus, the myth was born that balancing an egg was only possible on the equinox.

Fortunately, it's completely bogus.
It's also not that hard to do if you know how. From The Art of Manliness, we get complete instructions on how to balance an egg on its end, any day of the year. Go here to see the rest of the instructional graphic. You can use this on Monday to perpetuate the myth and impress the kids, or just use it any other day to bust the myth and still impress the kids.  
(Image credit: Ted Slampyak)
Source: neatorama