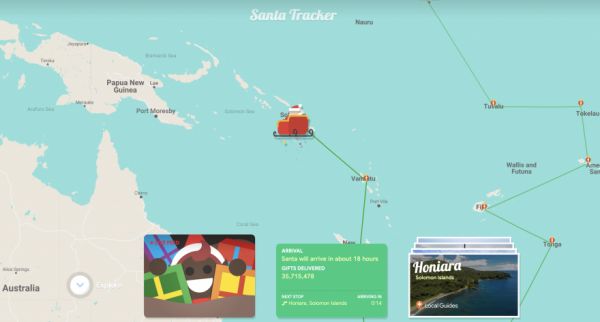 When the kids get excited about a Christmas visit from Santa Claus, they have a lot of questions. How can Santa visit the whole world in one night? Well, he's not everywhere at the same time. He starts at the International Date Line and works his way westward as the earth rotates. At least we assume as much. You can keep your kids busy today with several sites that track where Santa is at any time from now until he completes his rounds. Keep in mind that hw won't visit until all the good little boys and girls in the house are asleep in their beds.
Google has a Santa Tracker online, as they have every Christmas Eve since 2004. The tracker also has links for kids to learn more about the places he visits. The screenshot above was taken in the early morning, so he's no doubt moved on quite a bit by now.
NORAD Tracks Santa was launched by the North American Aerospace Defense Command in 1955, when the agency issued hourly press releases about the unidentified flying object that was eventually identified as Santa Claus. They later had a hotline that kids could call and reports that were aired on radio. I well recall the dispatches, featuring a NORAD radio operator relaying Santa's current location every hour or so. It always ended with a clip of Santa saying "Merry Christmas to all, and to all a good night!" The origin story of the program is pretty wild, and keeps changing. Now you can follow Santa Claus online on a map, although it was glitching when I checked it this morning.
Source: neatorama