The following post is brought to you by Mitzi. Our partners are hand picked by the Design Milk team because they represent the best in design.
You already know that having a great lighting fixture can completely elevate the look of a room. But in order to get an aesthetically pleasing and balanced look, you'll need to think about layering. More is definitely more when it comes to lighting. And when it comes to choosing which fixtures to use, we are enamored of the modern yet cheeky lighting of Mitzi, a line from Hudson Valley Lighting.
If you're not yet familiar with Mitzi lighting, you're in for a treat. The line began as a way to give the company's young design team an outlet to explore edgier materials and designs, but somehow maintains the elegance and classic shapes Hudson Valley is known for. And they offer every type of fixture — from table lamp to pendants and ceiling fixtures. This is a huge plus that enables you to keep your finishes consistent.
Layered lighting is not noticeable when it's done right (i.e., done at all), but its absence sure is. The principles of layering lighting to create a mood have been practiced for centuries. Just think of some of the world's greatest churches and cathedrals. Stained glass, chandeliers and altar candles all work together to create an atmosphere of awe–a single bare bulb on the ceiling wouldn't quite have the same impact. What works on a grand scale works equally well on a more residential one. The concepts are so simple, yet immensely impactful, we'll bet you start walking through your house looking for places to add a few more fixtures.
Ambient Lighting
Ambient lighting is all the general light that comes into a space. For the most part, we're talking ceiling fixtures — flush mounts, pendants, chandeliers.
In Your Ambient Lighting Tool Box
1. Flush mount: Flush mounts are fixtures designed to hug the ceiling and therefore are perfect for low ceilings like in Megan Pflug's mid-century Woodhouse Lodge (above).
2. Chandelier: If you have the ceiling height, a chandelier is an elegant way to illuminate any space.
3. Wall Sconces: Wall sconces can add to a space's overall illumination in an interesting way and often more softly than is possible with overhead fixtures.
4. Pendants: (which can sometimes serve as task lighting) A pendant is suspended from the ceiling like a chandelier, but, where a chandelier is a multi-bulb fixture, the pendant typically only has a single bulb. You'll often see multiple pendants hung in a row.
To demonstrate the power a fixture has to completely change the vibe of a space, photographer, stylist and author Anne Sage played with three different Mitzi pendants hung over a dining table (pictured above). "Lighting is like functional art; it adds a sculptural presence to any space! So, I approach lighting the way I would if I were choosing artwork for a space: I look at shape and line, material and finish, personality and overall mood—the fundamental design elements, really—to inform my lighting choice," she explained. (See more in her full shopping roundup, Three Lights, Three Looks)
Task Lighting
This is the kind of lighting that will illuminate, well, tasks. To start, make a mental list of the activities that you envision happening in a room. So, for a living room, you might want to accommodate your love of reading or game-playing. Table lamps can be used for bedside reading, but you can also use one to light a kitchen countertop or illuminate a desk.
Accent Lighting
Accent lighting is often used to bring attention to specific features. It might be a picture light, a small lamp tucked into a bookshelf, or wall sconces illuminating a dark corner. This is where you can get creative.
Feeling about ready to begin your layered light journey? Here's a little inspiration to get you started: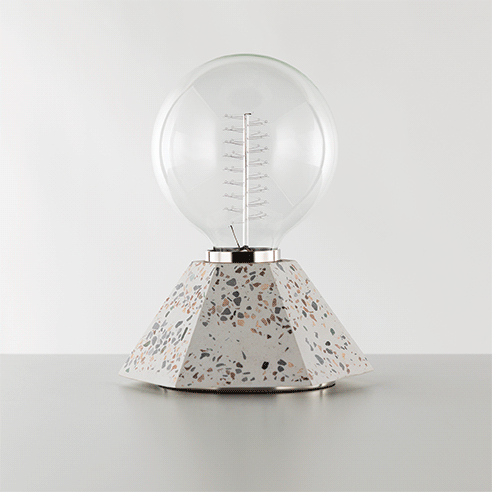 OK, time to shop! Head on over to Mitzi's website to find a retailer.
But, before you go, make sure you enter to win this Mitzi by Hudson Valley Lighting Lynn lamp!

Source: design-milk