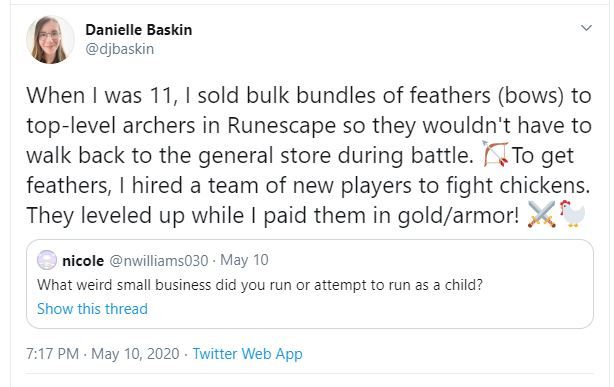 Danielle Baskin, an entrepreneur, has a story that warms my Ferengi heart.
In a Twitter thread, Baskin says that, when she was 11 years old, she played Runescape. In the game, she set up shop in an area where new players spawned. She offered to train them in combat by fighting chickens. Their payment was to pick up the feathers from the dead chickens and give them to her.
Baskin then sold the feathers, marking them up 1000%, to archers who needed them for arrows. She would deliver the arrows to battle locations so that the archers wouldn't have to go shopping for them. She was paid with in-game currency. Sadly, at the time, that money was not convertible into real life currency.
Still, Baskin's arbitrage operation was a brilliant demonstration of the ninth Rule of Acquisition: "Opportunity plus instinct equals profit."
Source: neatorama