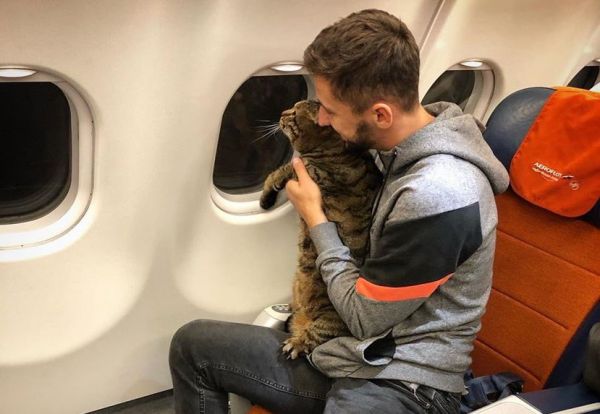 «Бро должен быть рядом, бро – не багаж». "bro gotta be around bro, is not luggage".
Mikhail Galin traveled from Riga, Latvia, to Vladivostok, Russia, with his 22-pound cat Viktor. That's a long trip. Galin booked the flight on Aeroflot, which has a rule that any pet over eight kilograms (18 pounds) must travel in the cargo hold. The rule was not invoked in Riga, but when Galin transferred in Moscow, he was told Viktor would have to fly in cargo.    
Galin refused to store Viktor in the plane's cargo hold on the eight-hour flight to Vladivostok. So he forfeited his ticket, and then took to Facebook to find a good Samaritan in Moscow with a cat that resembled Viktor, but weighed less than 18 pounds.

That is how he found Phoebe, the cat that would act a Viktor's body double. Galin then used his Aeroflot miles to book a business class seat to Vladivostok the next day. That cat's owners met Galin at Moscow's Sheremetyevo airport, where it was weighed in Viktor's place.

Once Aeroflot's animal handlers were satisfied they were looking at a suitably-sized cat, the gang made their way back to the terminal and swapped out Viktor's body double. The two boarded the plane in business class on a ticket Galin bought with his Aeroflot miles.
He would have gotten away with it, too, if it weren't for social media. Galin posted the story on Facebook, which went viral in Russia. Aeroflot got word of the subterfuge and suspended Galin from their loyalty program. He lost the 370,000 miles he had already accumulated. Read the details of the story at NBC.  -via Metafilter
(Image credit: Mikhail Galin)
Source: neatorama