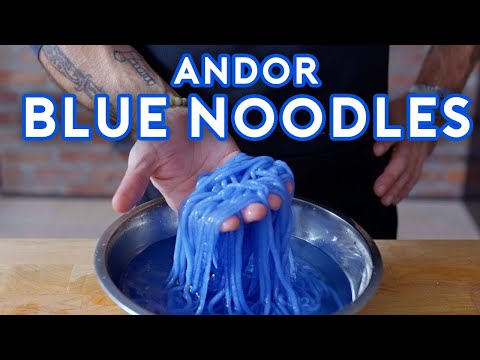 Odd colored food is an easy signal that you are seeing an alien planet. In the very first Star Wars movie, Luke Skywalker drank blue milk, a fact that embedded itself permanently into fans' minds. Later he drank green milk in The Last Jedi. The newest Star Wars TV series, Andor, had a scene in which we saw blue noodles. Andrew Rea of Binging with Babish noticed, and set out to recreate those noodles at home.
You will be a bit familiar about the way he did it; he used butterfly pea flower extract, which we learned about a few weeks ago. The first recipe is the easy one in which he boils noodles in water colored with butterfly pea flower. Then he made noodles with butterfly pea flower. The first attempt is a mess, but then he shows us a successful blue noodle recipe. It seems perfect with onions and garlic, but I have to wonder whether these noodles would change color to purple or pink if a citrus sauce were introduced. That's an experiment for another day. -via Geeks Are Sexy
See more pop culture food videos from Binging with Babish.
Source: neatorama